Bra-panty psychopath haunts metro rail women workers
Enters the flat occupied by only girls and points a knife at them
Smells the women's clothes that were hung for drying and jumps off from the balcony
There are no CCTV cameras at Metro Rail quarters, which raises questions on women's safety
Eight months after a psychopath was spotted entering Maharani Women's College hostel and stealing women's inner wears in Bengaluru, now, another similar incident has come to light in Baiyappanahalli Metro quarters.
This time, the incident was reported at Bengaluru Metro Rail Corporation Limited quarters, NGEF Village in Biyappanahalli police limits.
According to the FIR, Arpitha KS, a driver at Namma Metro, aged 24, was returning after her work at 3 PM after celebrating her friends birthday on January 10 and returned home late. As she was tired she slept and woke up to the strange sound at 2 AM on January 11. She was shocked to see a man standing with a knife next to her bedside. Scared, Arpitha woke her roommate Bhavya and asked the man who was he and why was he there?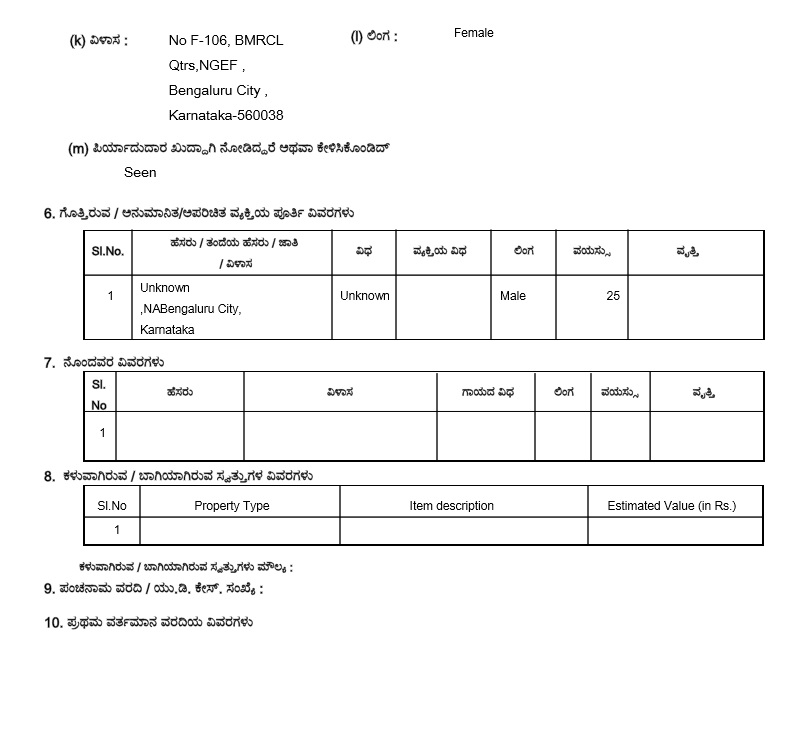 Initially, the man is said to have told them that he is a security guard and then he confessed to be a thief. Later, he went and pulled inner wears of the girls, which were hung for drying.
"He smelled the clothes and asked us if these were our clothes. We were scared and in tears answered him in negative. Angered by this, he threw the clothes on the floor and escaped from the balcony. He was in the apartment for about 15 minutes, smoked cigarettes and also had spit on the walls," read the complaint copy.
Ironically, the apartment has no CCTVs and police are finding it difficult to trace the alleged psychopath. Meanwhile, the security at Namma Metro quarters also has been intensified.
Till the police find the psychopath and arrest, the residents in and around Biyappanahalli and surroundings will have to be watchful.

| | |
| --- | --- |
| | Click here to Reply, Reply to all, or Forward |
Last Updated 31, Mar 2018, 6:45 PM IST