Protests for Cauvery water: A democratic right or challenge to the courts?
Karnataka Deputy Chief Minister D.K. Shivakumar has expressed his support for protests aimed at protecting the state's interests concerning the Cauvery River. He emphasized that protesting is a democratic right, and the government will not interfere in peaceful struggles.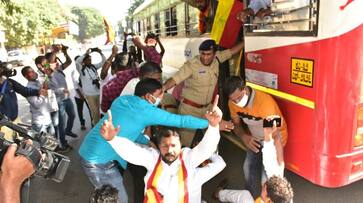 Shivakumar  indirectly urged the Congress party to back these protests, indicating a level of political cooperation in the cause.
However, this support has sparked a debate, with some questioning the effectiveness and timing of calling for a bandh (strike) when Supreme Court and High Court judgments on the matter are pending. MLA Yatnal has even called for a boycott of films featuring actors and actresses who don't participate in the Cauvery struggle, adding another dimension to the issue.
Shivakumar  acknowledged the potential legal complexities and the need to respect both the court's decisions and the people's cooperation. He expressed concern about the consequences of protests if the court ultimately rules in favor of the state.
 Schools and Colleges Closed  as Protests Escalate
In anticipation of the scheduled Bengaluru bandh on September 26, sparked by protests against the release of Cauvery water to Tamil Nadu and organized by farmers and pro-Kannada organizations, educational institutions in the city are taking precautionary measures. 
Bengaluru's city district commissioner, K.A. Dayananda, acting in the best interest of students, has officially instructed the education department to declare a holiday for all schools and colleges within Bengaluru.
The decision to close educational institutions comes in response to concerns about the potential complete shutdown of the city's traffic system due to the bandh. 
With various pro-Kannada organizations participating and the Commissioner of Police implementing a curfew, it's seen as a prudent move to ensure the safety of students who might face difficulties commuting to and from school during this period.
 
Last Updated Sep 26, 2023, 2:37 PM IST