Bengaluru supermarket vegetables contain unsafe levels of iron, cadmium and nickel; sparks health concerns
Vegetables in Bengaluru supermarkets, including beans, coriander, and spinach, contain dangerously high levels of heavy metals, exceeding safe limits, according to research by the Environmental Management and Policy Research Institute (EMPRI). Iron and cadmium levels in some vegetables greatly surpass permissible limits, posing health risks. Calls for stricter regulations and safer agricultural practices have emerged.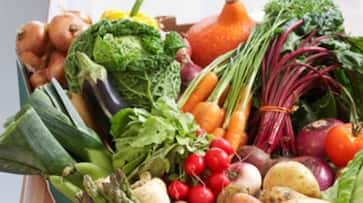 A recent discovery has raised alarming concerns about the safety of vegetables available in Bengaluru's supermarkets, particularly beans, coriander, and spinach, which have been found to contain dangerously high levels of heavy metals, including iron and cadmium.
The research conducted by the Environmental Management and Policy Research Institute (EMPRI) has uncovered a troubling reality: vegetables grown in the vicinity of Bengaluru and sold in supermarkets are often contaminated with heavy metals that exceed safe limits, posing significant health risks to consumers.

Weight loss to Antioxidant-7 reasons why to eat fresh fruits every day
The EMPRI's investigation involved the analysis of 400 samples from ten commonly consumed vegetables, sparking genuine worries about the safety of these widely purchased food items.
Iron, a vital dietary mineral, can be harmful when consumed in excess. The permissible limit for iron content, as established by the Food and Agriculture Organization (FAO), is 425.5 mg per kg. Shockingly, certain vegetables, such as beans from organic stores, were found to contain a staggering 810.20 milligrams of iron per kg. 

How will Bengaluru traffic be affected by partial closure of Silk Board flyover?
Coriander and spinach were not far behind, with recorded levels of 945.70 mg per kg and 554.58 mg per kg, respectively. Even vegetables supplied by Hopcoms, a well-known Bengaluru vegetable vendor, displayed elevated iron levels, with onions containing 592.18 mg per kg.
Cadmium, a toxic element notorious for causing liver and lung damage and weakening the immune system, has emerged as another critical issue. The FAO stipulates that the maximum allowable cadmium level in vegetables is 0.2 milligrams per kg. Nevertheless, cilantro bought from supermarkets had a cadmium content of 53.30 mg per kg, while spinach, carrots, and other vegetables showed similarly elevated levels, reaching up to 54.60 mg per kg of cadmium.

Ramanagara district to be merged with Bengaluru: Karnataka DyCM DK Shivakumar
Additionally, the research uncovered elevated nickel levels in various vegetables, including green chillies, tomatoes, carrots, potatoes, and beans, surpassing the recommended maximum limit of 67.9 milligrams. Prolonged consumption of such contaminated vegetables can have adverse effects on human health, underscoring the urgent need to address this issue.
The findings of this study have prompted calls for stricter regulations and a comprehensive reassessment of agricultural practices in the region. Experts stress the importance of avoiding the use of wastewater for agricultural purposes and advise farmers against using water from sewage and other waste sources to ensure the safety of the food supply chain.
Last Updated Oct 25, 2023, 12:25 PM IST