ISL 2023-24: Jamshedpur FC's Scott Cooper rues not taking chances against Punjab FC after goalless draw
Jamshedpur FC and Punjab FC played out a goalless draw at the JRD Tata Sports Complex in the Indian Super League (ISL) 2023-24 on Sunday as the league debutants continue their search for their maiden win of the season.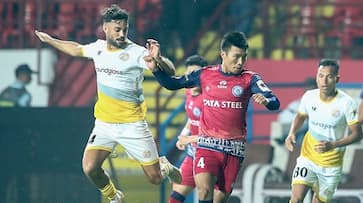 Jamshedpur FC's interim head coach, Scott Cooper, voiced his disappointment as his team was held to a goalless draw by Punjab FC in their Indian Super League 2023-24 clash at the JRD Tata Sports Complex in Jamshedpur on Sunday. Despite a match featuring end-to-end action at the Furnace, both sides failed to capitalize on their chances. Jamshedpur FC recorded 17 shots compared to Punjab FC's five. However, 12 of Jamshedpur FC's attempts were off target, highlighting their inefficiency in front of the goal. Cooper expressed his wish for better composure from his players during the finishing and was dissatisfied with their inability to convert chances, which allowed Punjab FC to remain in the game.
"I'm not satisfied with the result. You can never say you deserve to win the game. You deserve to win the game if you win the game. We made a lot of chances. We could have made even more chances if we had been more careful in the attacking third. We didn't take our chances. So I think we let Punjab FC off the hook a little bit. That said, they had some good moments towards the end of the game themselves. When you don't take their chances and convert all those opportunities, the (opposition) team that's still in the game always has a chance to get a goal. Punjab FC at the end, looked like they could threaten us," Cooper stated in the post-match press conference. 
This season, Jamshedpur FC has managed to score only once in four games while conceding an equal number of goals. They have maintained three clean sheets in four matches, including two at home, but have struggled to find the back of the net. Cooper commended his team's tactical performance and encouraged his players to exhibit composure when they are in front of the goal.
Cooper elaborated, stating, "All in all, it's a story of who we are. We are a team that defends very well and we don't give many chances away. We make many chances and don't score them. Tactically we are getting everything right. Tactically we are strong. We are doing everything we can do because as a coach, if your team is not giving chances away and not conceding goals and you're making chances, that's what you want. We just need players to show that last bit of composure (in the final third) and finish. In some moments, one extra pass for someone else for an easy finish."
Last Updated Oct 23, 2023, 3:12 PM IST