ISL 2023-24: Feel like we lost 2 points, says unhappy Odisha FC's Sergio Lobera after draw to Mumbai City FC
Odisha FC head coach Sergio Lobera expressed his disappointment as his team played out a 2-2 draw with Mumbai City FC in their ISL 2023-24 encounter on Thursday.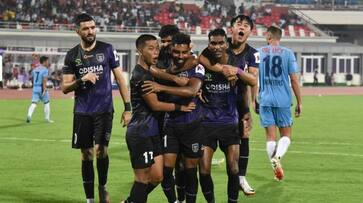 Odisha FC's head coach, Sergio Lobera, expressed disappointment in his team's 2-2 draw against Mumbai City FC in the Indian Super League (ISL) 2023-24, despite taking the lead twice during the match at the Kalinga Stadium in Bhubaneswar on Thursday. Odisha FC began the game strongly, showcasing dominance in ball possession against the ISL Shield winners. Jerry Mawihmingthanga capitalised on a mistake by Mumbai City FC's goalkeeper, Mohammad Nawaz, to put Odisha FC ahead in stoppage time of the first half. Mumbai City FC quickly equalised early in the second half through Rostyn Griffiths.
The Juggernauts regained their lead when Roy Krishna scored his first goal for Odisha FC. Nevertheless, the Islanders demonstrated resilience and secured a point as Jorge Diaz found the net just four minutes before regulation time ended.
"I feel like we lost two points. When the team puts in (such) a big effort, they deserve something more," Lobera said in the post-match press conference.
The Spaniard acknowledged that Odisha FC had competed well against the formidable Mumbai City FC, especially in the first half, where they had better ball possession. However, he emphasised that he was not content with the result and felt they had dropped two points. He mentioned the need to analyse the positive aspects of their performance.
"We competed very well against a very strong team like Mumbai City FC. We created our chances and worked better in the first half, keeping more possession of the ball. But in the second half, it was an equal game. In the end, I'm happy with the intention of my players. But, in terms of the result, I'm not happy. I feel we dropped two points. (Now) we need to analyse all the positive things we did in this game," he stated.
Lobera felt that his team could have been more effective in their defensive efforts, particularly during the crucial final minutes when they were protecting their lead. Diaz's goal, expertly maneuvered between two defenders, came from a delivery by Vikram Pratap Singh, grazing his shoulder before finding the back of the net.
"Especially, we could have managed the final few minutes better. Obviously, we were playing against Mumbai City FC. They had the ball most of the time, but we needed to defend better when we had possession," Lobera said.
The presence of the enthusiastic Odisha FC fans in large numbers was noted, with Lobera recognsing the significant boost such a supportive home environment provides. 
"The supporters are amazing. They're helping a lot in difficult moments, (especially) when you're playing against such a good team. We need to demonstrate to everyone that we're fighting and working very hard for them because, in the end, you know, the club, the squad, we're working for these people. I'm a little bit disappointed because they could have returned happier with three points against Mumbai City FC," he commented.
Last Updated Sep 29, 2023, 2:28 PM IST