ISL 2023-24: Coach Carles Cuadrat cautions East Bengal FC despite victory over Hyderabad FC
Twin strikes by Brazilian striker Cleiton Silva secured East Bengal FC their opening win of the Indian Super League (ISL) 2023-24 campaign as they defeated Hyderabad FC by 2-1 at the Salt Lake Stadium in Kolkata on Saturday.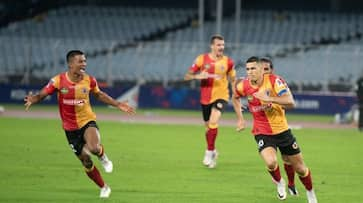 East Bengal FC's head coach, Carles Cuadrat, expressed satisfaction with his team's three-point victory over Hyderabad FC in their Indian Super League (ISL) 2023-24 clash on Saturday, but remained cautious about the challenging nature of the game. Hyderabad FC took an early lead with a goal from Hitesh Sharma, which was later equalized by Cleiton Silva. Silva secured the win with a fantastic stoppage-time free-kick.
Cuadrat acknowledged the difficulty of the match against Hyderabad FC and emphasized the importance of being cautious in games that can be decided by fine margins. He highlighted the narrow margins that often characterize ISL matches and the impact of set-pieces on outcomes.
"It was a game with not a lot of chances. Our team created more chances the other day. But this is football. Hyderabad FC is used to being competitive with very narrow margins. Last season, in a lot of games they finished 1-0. The players knew that they had to manage that kind of result. Now, with the new rules that are happening, lot of games are around 100 minutes. So we were focused that anything could happen. It's true that a set-piece can change anything and it was a moment of brilliance with Cleiton scoring that wonderful goal. We are celebrating these three points but we have to be conscious that narrow margins are always here in the ISL," Cuadrat said in the post-match press conference.
Cleiton Silva, who started the game against Hyderabad FC after coming off the bench in East Bengal FC's opener, showcased his goal-scoring abilities and played a pivotal role in the comeback victory. Cuadrat, who previously worked with Silva at Bengaluru FC, praised the player's talent and competitive spirit as an example for his teammates.
"I brought Cleiton to India. I was the coach that signed him (at Bengaluru FC). He is an incredible, talented player. After Bengaluru FC, he decided to sign with East Bengal FC and I am with him again. We all know what he was doing for the team last season and we expect him to produce the same this season. For the first game that he was in the starting eleven, we all can be satisfied. The team is (performing) in the right way and the captain has shown to our players what it is to be competitive," Cuadrat further said.
Last Updated Oct 1, 2023, 1:56 PM IST