ISL 2023-24: Coach Benali ecstatic after NorthEast United FC's remarkable comeback to beat Jamshedpur FC
Despite the odds stacked against them, NorthEast United FC clinched their second win of the Indian Super League (ISL) 2023-24 season after trailing by a goal until the 93rd minute in their game against Jamshedpur FC on Thursday.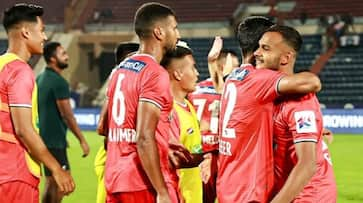 NorthEast United FC's head coach, Juan Pedro Benali, expressed his elation as his team orchestrated an astonishing comeback to secure a thrilling 2-1 victory over Jamshedpur FC in the Indian Super League (ISL) 2023-24 at the Indira Gandhi Athletic Stadium in Guwahati on Thursday. Despite being at a disadvantage, the hosts managed their second win of the season, having been behind by a goal until the 93rd minute. NorthEast United FC's persistent efforts paid off with two quick-succession goals. Initially, the Red Miners had taken the lead when Daniel Chima Chukwu capitalised on a rebound after his initial penalty was saved by Mirshad Michu. While the Men of Steel adopted a defensive approach in the second half, the Highlanders remained steadfast in asserting themselves on their home turf.
Benali, in the post-match press conference, analyzed the game and noted, "I think if we see the game slowly, we see that Jamshedpur was defending, defending, defending, defending, defending. We're making some mistakes in the first half, positioning mistakes. We didn't do exactly what was planned. In the second half, we corrected it. We had all the second half. penalty. Yes, they scored. Yes, we know that it's a very difficult team to score against, but perseverance goes again, again, and again, and it happened. That's football. That's the beauty of football. What we did in 90 minutes, we couldn't score; in three minutes, we scored two. Great game, great three points."
A moment of brilliance from Spanish defender Michel Zabaco, along with Ibson Melo's perfectly executed penalty kick in the final moments of extra time, secured three crucial points for the team. This victory elevated them to third place in the league standings.
Discussing their promising start in the ISL, Benali shared, "I tell you the truth. If they told me before to start the season in the fifth match we had eight points and we'd be in the third position, I would say you're crazy. Really happy with the guys, really happy with the work. I hope you come to see all the training and meetings, and they're working hard. They deserve it. Really, they deserve it."
Benali also expressed his delight at the substantial number of supporters in the stadium, emphasizing that their cheers and chants provided an additional boost for the team.
Reflecting on the incredible support from the Highlanders, Benali said, "Fantastic. We hope to see more people, more fans. That's what you want. I think 50% of this win is for our supporters. They were pushing and pushing and pushing. Great. Fantastic. That's NorthEast's spirit. That's what we want to see."
The Highlanders' next match will be against Odisha FC on November 3 at the Kalinga Stadium in Bhubaneswar.
Last Updated Oct 27, 2023, 1:39 PM IST