ISL 2023-24: Chennaiyin FC's Coyle lauds 25-minute spell in '5-star' win over Punjab FC; WATCH highlights
Chennaiyin FC marked a happy return to their home ground with a convincing 5-1 victory over Punjab FC at the Jawaharlal Nehru Indoor Stadium in the Indian Super League (ISL) 2023-24 on Sunday.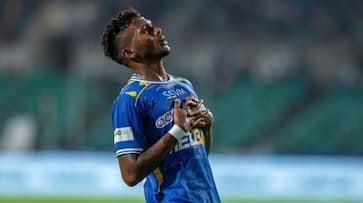 Chennaiyin FC's head coach, Owen Coyle, was brimming with pride after his team secured an impressive 5-1 victory against Punjab FC in their Indian Super League (ISL) 2023-24 clash at the Jawaharlal Nehru Stadium in Chennai on Sunday. The Marina Machans dominated the game, handing the ISL newcomers their third defeat of the season. This resounding win was attributed to a stellar collective effort from the home side, with goals from Connor Shields (who scored twice), Ryan Edwards, Vincy Berretto, and Rafael Crivellaro. While Punjab FC managed a consolation goal by Krishnanandan Singh late in the game.
In the post-match press conference, Coyle expressed his elation at the team's performance, highlighting a remarkable 25-minute period of exceptional football. 
"That 25-minute spell playing 11 v 11, we were outstanding. Some of the best football, even from my sixth season – I mean, some of the football we played in those 25 minutes was outstanding. That's what we need to bring. We have to keep delivering it every week. We know that we've been in more threatening positions in our league than anybody else, but we might not always provide that final quality or the decisive pass to create opportunities. However, we did that tonight. If you look at the variety, it was all different types. These are the things we've been working on in training, so it's gratifying when they come to fruition," he said.
The 57-year-old Chennaiyin FC coach strategically positioned Rahim Ali as the number 9, with Shields operating on the wings. He commended Ali's selflessness and adaptability, noting Ali's role in setting up goals for his teammates throughout the game. The coach lauded Ali's team-oriented approach, underscoring the player's work rate and the opportunities he created for others.
"Rahim Ali is a fantastic player. He's a fantastic team player and I have no fear of trying new things. In season six, I was probably the only coach who played two Indian midfielders. In this season, I played Rahim Ali as a number nine. You saw him tonight, and even though he didn't score, he could have taken the penalty because he takes penalties as well. Instead, he gave it to Rafa, which is admirable because Rahim could have scored as well. His work rate, the chances he created for others, and his selfless performance were truly impressive. It was a significant team effort, and I hope there's more to come from him," he said.
Coyle emphasized the importance of finishing strong in a season, stating that a strong start is not as crucial as a robust finish. "When a season starts, it's not how you start a season; it's how you finish a season. And as we all know too well at this fantastic football club, I never get too high. But equally, I don't get too low. I look at it, I analyze it. On balance, we had the best first chance in every game," he opined.
Coyle also lauded Shields for his two-goal performance and defensive contributions. "When he has goals, it just elevates him. But even when he doesn't, his work rate and his appetite for the team are outstanding. He's a part of a very tight-knit group. They're a good bunch of lads to work with," he concluded.
Overall, Coyle expressed confidence in the team's progress, indicating a positive outlook for the remainder of the season, as they aim for a successful finish.
Last Updated Oct 30, 2023, 10:19 AM IST