Ramadan 2023: Who's eating what during Sehri and Iftar?
From Sania Mirza to Rashid Khan and Rana Safvi, celebrities have been sharing interesting anecdotes from their respective Iftar table. Let's take a look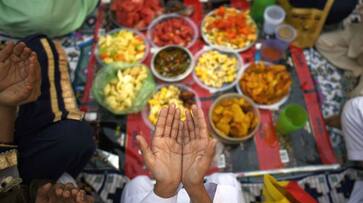 The month of Ramadan has entered its second week and thus the stories of Sehri and Iftar from various know who's from every genre have started making rounds on social media. From Sania Mirza to Rashid Khan and Rana Safvi, all shared interesting anecdotes from their respective Iftar table.
Tennis sensation Sania Mirza, who recently performed Umrah at the Majid Al-Haram of Mecca-Medina shared a video on Instagram captioned, "Iftaar s with my ". In the video, she can be seen teaching her son how to break the fast at Iftar (after dusk meal). This heart-warming video has over 1.2M views, 176k likes and over 1k comments.
The popular Afghan cricketer Rashid Khan, who is currently playing for the Gujarat Titans in the ongoing IPL season 15, hosted Sehri (pre-dawn meal) where his teammate and captain Hardik Pandya along with teammate Noor Ahmed was also a guest. The platter as shown in the picture is spread on the carpet floor of the hotel room. From aerated drinks to fruits and non-veg curry were all available for a quick Sehri feast. 
Rashid Khan captioned the pic as, "SEHRIIII with skipper So nice of you to join us". The pic has over 473k likes and over 3.5k comments.
Popular historian author and a Sufi by heart Rana Safvi had a special Iftar spread as her friend from Calcutta sent her cooked Haleem. It all happened when Rana expressed her wish to taste her friend Manzilat Fatima's special Ramadan Haleem. Manzilat cooked and couriered the same from Calcutta to Delhi. 
Rana captioned the pic as, "I am blessed to have a friend like @mannzie who read a comment by me on her post that I want to taste the haleem that is made during Ramzan in @manzilats . She dispatched it yesterday from Calcutta and we are having it for dinner in Noida 😋😍🥰🤩💕 God bless you Manzie 🤲"
Ramadan is the ninth month of the Islamic Lunar calendar and is marked with great pomp and fervour. It is said that this holy month is significant because the Quran was unveiled during this auspicious time. At the end of Ramadan, there's a big three-day celebration called Eid al-Fitr, or the Festival of the Breaking of the Fast.
This article originally appeared in AwazTheVoice, and has been reproduced with explicit permission
Last Updated Apr 5, 2023, 1:50 PM IST