A picture by an Assam Muslim artist portraying Lord Krishna with bikini-clad women has not gone down well with devout Hindus
Bengaluru: The International Society for Krishna Consciousness (ISKCON) has requested Assam chief minister Sarbananda Sonowal to take action against an Assam Muslim artist Akram Hussain for his picture, portraying Lord Krishna among women clad in bikinis. 
We request @CMOfficeAssam @sarbanandsonwal ji @himantabiswa ji to take strict action against Assam based Akram Hussain for this offensive post. https://t.co/dgLZGUh0T0

— Iskcon,Inc. (@IskconInc) August 17, 2020
Several people took to twitter to register their outrage. 
#SecularismofMuslimArtist#BangaluruonFire
Hindus never burn police station nor not any public property.
Painting of Krishna by Akram Hussain at Guwahati's state Gallery.FIR was lodged against him. Krishna with seven bikini-clad women in a bar on 14 Aug 2015. @ShekharGupta pic.twitter.com/vc7p7VeSOm

— Ratan Sharda 🇮🇳 (@RatanSharda55) August 17, 2020
Back in 2015, Hindu Jagaran Manch had filed an FIR at Latasil police station in Guwahati against the artist for hurting the religious sentiments of Hindus.
Reports add that, in April 2015, Akram Hussain's Lord Krishna's painting along with another preposterous artwork depicting liquor bottles and undergarments pouring out of an unfurled tricolour were displayed at a group exhibition in the Assam State Art Gallery.
The Assam branch of the All India Patriotic Forum had condemned his act of "dishonouring the national flag in the name of artistic freedom".
While defaming and dishonouring Hindu Gods and Goddesses is perceived to be freedom of speech and expression, anything on similar lines done against revered figures of other religions appear tantamount to blasphemy. 
In May, ISKCON had lodged a complaint against comedian Surleen Kaur and Shemaroo for insulting Santan Dharma. 
Surleen Kaur can be heard using derogatory comments for the followers of ISKCON and ancient Hindu saints.
ISKCON authorities were of the view that the complaint would serve as a befitting lesson for others as they resort to making fun of Hindu gods and goddesses. 
Incidentally, a Muslim mob went berserk last week in Bengaluru as they took umbrage to a post disrespecting Prophet Muhamad.  
The mob, numbering around a thousand, set fire to Congress MLA Akhanda Srinivas Murthy's house apart from setting fire to a police station. The mob also attached policemen on duty and torched more than 20 vehicles.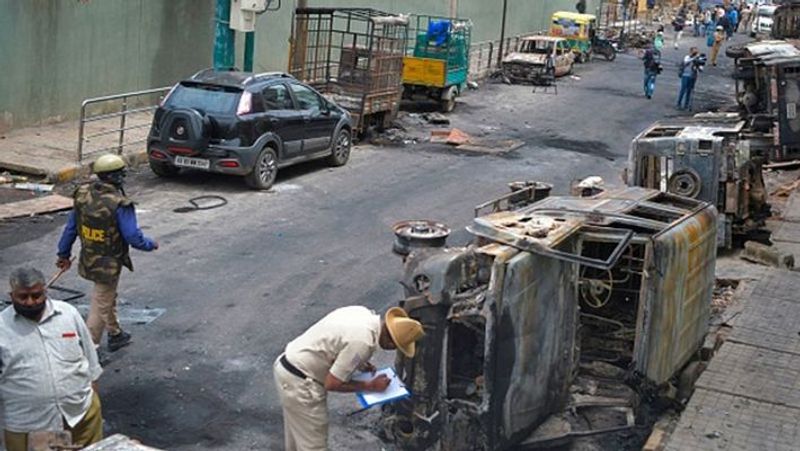 Reports further add that Naveen, the accused who put out the derogatory post, was responding to another offensive post, mocking a Hindu deity.