Kerala News LIVE: Nipah update: 24 more samples test negative, informs Health Department
Kerala News LIVE: Nipah update: 24 more samples test negative, informs Health Department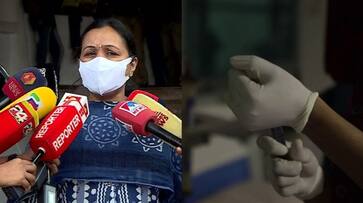 3:00 PM: Lower Primary school in Vizhinjam uses EVM for student elections
The students of Vizhinjam Government Harbour Area LP School enthusiastically engaged in a comprehensive mock election, demonstrating their aptitude in arranging a field election, which included setting up electronic voting machines (EVMs), handling postal ballots, conducting result tabulation, and declaring outcomes.
---
2.15 PM: Fire erupts in South Indian Bank's ATM at shopping Mall in Ollur
A fire broke out in the ATM of South Indian Bank operating in Ollur Ramoos Shopping Mall. The incident happened around 11 am. The initial conclusion is that a short circuit was the cause of the fire. The fire brigade arrived from Thrissur and extinguished the fire completely. The batteries, control machines and related electrical equipment kept behind the ATM machine were completely burnt. However, no harm has caused to the ATM machine.
---
1.00 PM: IMD issues yellow alert in 7 districts today
As per the latest notification at 1 pm from the IMD, a yellow alert has been sounded in seven districts today including Thiruvananthapuram, Kollam, Pathanamthitta, Alappuzha, Kottayam, Ernakulam and Idukki.
---
12.30 PM:  Nipah update: 24 more samples test negative, informs Health Department
---
12:00 PM: "Kerala will develop by taking loans and will clear liabilities", says LDF Convenor Jayarajan
LDF Convenor EP Jayarajan said that Kerala will develop by taking loans, and through that development, it will clear its liabilities. He was speaking after inaugurating the satyagraha strike of the Left Front in front of the Raj Bhavan against the central government's continued neglect of Kerala. EP alleged that Kerala is an economically challenged state, and the UDF is standing against the development of Kerala along with the BJP.
---
11:30 AM: Mother and five children go missing from Wayanad
A mother and her five children have gone missing from Wayanad. Vaishnav (12), Vysakh (11), Sneha (9), Abhijith (5), and Sreelakshmi (4), who live in Koodothummal, Kampalakkad, have been missing since the 18th of this month. They went to their own house in Chelari and have not reached there. Later, the relatives lodged a complaint with the police. The police said that an investigation has been started.
---
10.45 AM: Drunk cop physically assaults shop owner, family in Kochi
An SI of Nedumbassery reportedly thrashed a shop owner with a cane for no reason. SI Sunil Kumar was then apprehended by the Nedumbassery police and took him for medical examination. It was revealed that he was in a drunken state. 
---
10.00 AM: Panur Vishnupriya murder case: Trial to begin today
The trial in the brutal Vishnupriya murder case will begin today. The 23-year-old Vishnupriya was brutally stabbed to death by her alleged boyfriend Shyamjith last October when she ended the relationship. The Koothuparamba native was taken into the police custody. He killed her around 11.30 am using the hammer and knife he carried with him while she was alone at her house. 73 witnesses will be examined in the case.
---
9.30 AM: Palakkad tops in Thiruvonam Bumper ticket sales 
The most awaited Onam bumper results were declared on Wednesday (Sep 20) and the first prize of Rs 25 crores was won by a Coimbatore Annur native Natarajan, who bought 10 tickets each worth Rs 500 from Bava Lottery Agency situated at Walayar in Palakkad four days ago. This year, Palakkad is making headlines for reasons other than the delivery of the winning lottery ticket. The district also topped in the most number of ticket sales. A total of 11,70,050 Thiruvonam bumper tickets were sold in the Palakkad district alone – two lakh tickets more than Thrissur which is ranked second.
---
8.45 AM: Customs seize gold worth Rs 1 crore in Kochi airport
The Airport Intelligence Unit (AIU) at Cochin International Airport detained two passengers in two different instances, officials said on Wednesday and confiscated foreign-origin compound gold, valued at close to Rs 1 crore. In one incident, Customs AIU intercepted one passenger, who had arrived from Kuala Lumpur to Kochi. In a separate incident, customs officers detained another traveller who was hiding three cylindrical-shaped capsules filled with compound gold of foreign origin in his rectum.
---
8.15 AM: Second Vande Bharat Express arrives in Kerala
The second Vande Bharat train allotted to Kerala has reached the capital. The train reached Kochuveli railway station at 4.30 am today. After the trial run, the inaugural service of the second Vande Bharat train will start from Kasaragod on Sunday (Sep 24). Prime Minister Narendra Modi will flag off nine Vande Bharat services on various routes in the country through video conferencing. The service will be from Kasaragod to Thiruvananthapuram via Alappuzha. The train will leave Kasaragod at 7 am and reach Thiruvananthapuram at 3:05 pm. The return journey will commence from Thiruvananthapuram at 4:05 pm and reach Kasaragod at 11:55 pm. Apart from Thiruvananthapuram and Kasaragod, there will be stops at Kollam, Alappuzha, Ernakulam South, Thrissur, Shoranur, Kozhikode and Kannur stations.
---
8.00 AM: Police jeep catches fire in Thiruvananthapuram
A police jeep caught fire in Vellayambalam junction on Wednesday evening. However, there were no injuries reported. The jeep involved in the incident was assigned to State Special Branch Deputy Commandant Sujith.
---
7.55 AM:  IMD predicts heavy rainfall today; Yellow alert in 4 districts
The India Meteorological Department (IMD) has warned that there is a possibility of heavy isolated rain in the state today. Low pressure is located over the North-West Bay of Bengal near the West Bengal-Odisha coast and is likely to move over Jharkhand. IMD  has said that there is a possibility of heavy rain at isolated places for four more days due to the prevailing cyclone over Kutch. A yellow alert has been sounded in the Idukki, Kozhikode, Kannur and Kasaragod districts.
Last Updated Sep 21, 2023, 3:28 PM IST