Kerala: Biker suffers injury after wild buffalo attack in Wayanad
A youth was badly injured after being hit by a wild buffalo in Wayanad. He was rushed to the hospital and is seeking treatment.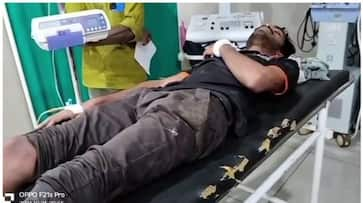 Wayanad: A youth was badly injured after being attacked by a wild buffalo in Wayanad on Thursday. The injured was identified as Naresh, native of Panavally, Wayanad. The incident took place on Wednesday evening.
Naresh said that the wild buffalo that rushed towards the scooter stabbed him with its horn and overturned him. He was lying on the side of the road. Later, the passersby saw him, called the forest department officials, and took him to the hospital.
Officers of Appappara forest station brought Naresh to Mananthavadi Medical College under the leadership of Forest Officers Ramesh and Nandagopan. The young man is undergoing treatment for injuries to his arm, leg and neck. Locals said that even during the day, the wild buffaloes are a nuisance in the area.
Meanwhile, a brother and stepfather were arrested for molesting an 8-year-old girl in Kasaragod on Thursday. Both of them abused the girl by giving her alcohol. The Chitarikkal police arrested the accused. Both of them were produced in court and remanded
Man, mother-in-law sentenced to 27 years imprisonment in POCSO case in Thrissur
The Thrissur Fast Track Special POCSO Court has sentenced two people to 27 years of imprisonment in the case of molesting a minor girl. The court also granted a fine of Rs 2 lakh to the young man who drugged the girl with alcohol and sexually assaulted her. Arun (32) and Sharmila (48) have been jailed in the POCSO case.
Last Updated Oct 26, 2023, 4:31 PM IST