Explained: The Shukrayaan mission, India's next space destination
While ISRO has advanced mission preparations, international space agencies like ESA, JAXA, and NASA have also explored Venus. The mission seeks to answer key questions about Venus's composition, atmosphere, and surface features. Girish Linganna reports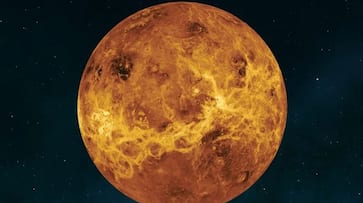 Just a little over a month after the Indian Space Research Organisation (ISRO) achieved a historic milestone in space exploration with the soft landing of its Chandrayaan-3 spacecraft in the Moon's south polar region, and launching India's first solar mission, Aditya L-1, the space agency has got preparations well underway to launch its Venus mission. The unofficial name of ISRO's Venus Orbiter Mission is Shukrayaan-1. The name, Shukrayaan, is derived from the Hindi word for Venus, which is Shukra, and 'yaana', meaning craft in Sanskrit. In Hindu belief, Shukra Grah is known to be astrologically significant.
The expected launch date of the mission is December 2024, but ISRO says it will share the time, location and more details soon. The mission duration is expected to be four years. ISRO Chairman Sreedhara Somanath has stated that preparations for a forthcoming mission to Venus -- the solar system's brightest planet -- are well underway, with the mission configurations in place and payload designs in an advanced development phase.
International Venus Missions
The European Space Agency (ESA) successfully launched the Venus Express Mission, which orbited the planet from 2006 until 2016, making it the first probe aimed at studying Venus in over a decade. This launch was accomplished using a Russian rocket. Another mission, Japan's Akatsuki Venus Climate Orbiter, has been orbiting Venus since 2016, after completing its journey to the planet. 
NASA's Parker Solar Probe has carried out several Venus flybys. In February 2022, NASA announced that the spacecraft had successfully captured its first visible light images of Venus's surface during its flyby in February 2021. Interestingly, out of the 30 space missions that have either flown by or orbited Venus so far, more than a third were part of the erstwhile Soviet Union's Venera series of robotic probes.
Objectives of the Venus Mission
The primary purpose of this mission is to comprehensively study Venus -- often called 'Earth's twin' -- especially its surface and atmosphere of Venus. The surface composition of Venus is not known since thick clouds at 60 kilometres altitude engulf it. "Venus is a very interesting planet. It also has an atmosphere so thick --with an atmospheric pressure 100 times that of Earth -- that you cannot penetrate the surface. It's full of acids…," says Somanath. 
The three broad research areas of interest for this mission include surface/sub-surface stratigraphy -- a branch of geology concerned with the study of rock layers (strata) and layering (stratification) and primarily used in the study of sedimentary and layered volcanic rocks -- and re-surfacing processes; studying the atmospheric chemistry, dynamics and compositional variations, and studying solar irradiance and solar wind interaction with Venus's ionosphere. 
The mission is expected to conduct research on Venus's active volcanic hotspots, lava flows and their patterns, besides re-validating claims of phosphine on Venus, which are currently thought to be erroneous. Some questions that need answers are: What makes Venus lose most of its water? What is the reason for high-velocity winds on a slow-rotating planet? What is the factor in Venus clouds that absorbs UV? 
Funding for the Mission in 2017
A report in the Hindu said the seeds of the Venus mission were sown in 2012. In 2017, ISRO began preliminary studies after a 23 per cent hike in the 2017-18 budget for the Department of Space. The same year, ISRO sought solicitations for instruments from research institutes. The orbiter is expected to have a scientific payload capability of approximately 100 kilograms (220 lb) with 500 W available power. The initial elliptical orbit around Venus is expected to be 500 km (310 miles) at periapsis and 60,000 km (37,000 miles) at apoapsis. 
Budget for ISRO's Venus Mission
The budget for Chandrayaan-3 was Rs 600 crore and that for Aditya L-1 was Rs 400 crore. ISRO has, so far, managed to accomplish significant space missions on a shoestring budget. The estimated budget for the Venus mission is believed to be up to Rs 1,000 crore, covering the costs of equipment, material testing and others.
Venus Mission Technical Details
* The science payload is 100 kg, comprising 16 Indian and 17 international payloads
* Available power is 500W
* Indian instruments, such as LIVE, Venus L & S-Band SAR, VSEAM, RAVI, NAVA, Venus Solar, VeRad, and others will be used
The author of this article is a Defence, Aerospace & Political Analyst based in Bengaluru. He is also the Director of ADD Engineering Components, India, Pvt. Ltd, a subsidiary of ADD Engineering GmbH, Germany.
Last Updated Oct 1, 2023, 1:29 PM IST