Deliberate destruction of 1,700-year-old Buddha statue in Pakistan draws outrage across countries
The five-foot-long half-buried Buddha statue, reportedly, 1,700 years old, was discovered while digging the foundation for a house in Pakistan's Takht-i-Bahi area of Pashtun-dominated Khyber Pakhtunkhwa province's Mardan district.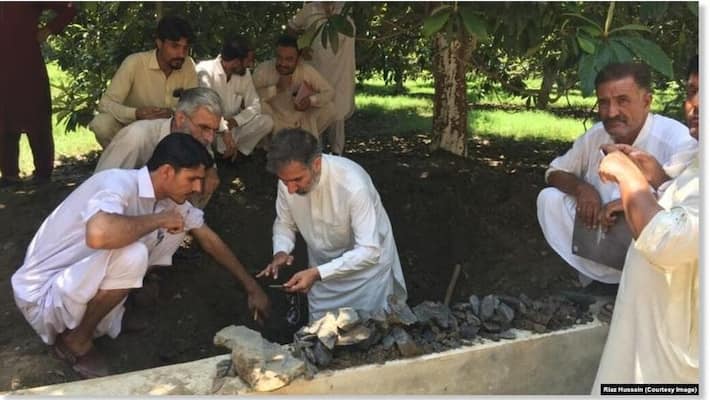 New Delhi: A video surfaced and went viral on social media showing a bearded man who could be heard explaining to his other colleagues, "Look, these are his thighs; this is the belly and this is the naval button (scratching it with a stone)." His observations prompted one of his fellows to ask, "Is this a statue of an Englishman or Hindu?" "Hindu, Hindu, this is Gautam Buddha," the man replied while crushing the statue with a hammer. In the video, the perpetrators could be seen congratulating one another on their act of destroying a cultural heritage.
The incident was reminiscent of the act during the Taliban rule in Afghanistan, when they had annihilated the world's famous and tallest Buddha statues in Bamiyan in March 2001. Later, a number of Buddha statues were destroyed in the Swat region, when it was controlled by the Tehreek-i-Taliban Pakistan (TTP).
The five-foot-long half-buried Buddha statue, believed to be 1,700 years old, was discovered while digging the foundation for a house in Pakistan's Takht-i-Bahi area of Pashtun-dominated Khyber Pakhtunkhwa province's Mardan district, according to media reports. The area is known for its relics since it was a part of the Gandhara civilisation. Excavated in 1836 for the first time, archaeologists have dug out hundreds of relics made of clay, stucco, and terracotta in the area.
However, the deliberate destruction of the Buddha statue has drawn ire from many corners. Asianet Newsable spoke to many people in several countries to know their reactions and opinions on this unfortunate incident that occurred in a country which is reeling under acute poverty and is branded as the epicentre of terrorism. 
Tsewang Gyalpo Arya, Information Secretary at the Department of Information and International Relations of Central Tibetan Administration (CTA) said, ''It is very unfortunate to hear that the 1700-year-old Buddha statue found in Pakistan has been destroyed. It is a great loss to the national heritage, and to the study of history and civilization of the regions. Buddha was a messenger of peace and non-violence, such display of hatred toward the statue betrays great religious intolerance. This is not good for humanity and world peace. I hope the Pakistan government and the elders will look into matter and ask people to restore the statue and refrain from such bigotry.''
The act also shook film director Shyam Benegal who said he was deeply saddened by the "gratuitous vandalism."  
Also criticising the ghastly act, Dr Akbar, editor of Aag, an Urdu daily which is published in Lucknow, said, ''Unto you is your religion and unto mine is my religion – is the unique advice in Holy Quran for Muslims. Regrettably, facts and common-sense matter little in Pakistan, as a populist media and rabble-rousers within the political establishment have found a golden opportunity to pillory minorities there. But the Islamic state has remained unmoved as millions of people there are disenfranchised by a violent, majoritarian narrative. Pakistani Muslims who raise a voice against these injustices are hounded by the Islamic establishment, with bogus cases filed against them to snuff out dissent.''
Renowned ghazal singer Dev Rathore, an ardent follower of Buddha philosophy said from Mumbai, ''It is undoubtedly a very sordid incident. Buddhism was founded on Lord Buddha's sublime message of love, peace and self-discipline. This philosophic vision of life has found its representation in enormous mighty stupas, impressive gateways that stand before them, and great caves hewn out of rocks, which together form perhaps the greatest art ever created in the world and they live to this day to tell the narrative of his life. Buddha is a symbol of peace. His message of love and peace is not only for India and Pakistan, but for the whole world. Literatures and everything related to him must be preserved.''
Afrasiab Khattak, a former Pakistani parliamentarian, posted on Twitter that the incident was part of a "systematic effort to separate Pashtun identity from Buddha." Abdul Samad, Director, Archaeology and Museums, Khyber Pakhtunkhwa, termed the destruction of the statue a ''crime'' and said ''disrespecting any religion is intolerable''.
Anmol, a journalist from Peshawar said, ''Mardan district has several archaeological and Buddhist sites. Takht-i-Bahi is one of the UNESCO World Heritage sites. Many tourists and pilgrims from across the world, particularly followers of Buddhism, visit the Takht-i-Bahi site every year. Archaeological and Buddhist sites are found in several parts of the Mardan district, including Jamal Gari of Katlang tehsil, Shebaz Gari of Mardan tehsil, Safi Abad and Sar-i-Behlol localities of Takht-i-Bahi tehsil. The recent unfortunate incident…deliberately or unintentional…can never be justified in any way.''
Zeeshan Faisal Khan, a sales representative and resident of Sindh said, ''Two Buddhist statues had been found in Sheikh Yousaf village of district Mardan one year ago when people were digging a grave. Those statues were handed over to officials of the archaeological department. There are about 450 archaeological and Buddhist sites in different parts of Mardan district. The district has several ancient sites of Buddhist monastery, but the government of Pakistan failed to take serious steps for their preservation.''
 
Regretting the incident, Mrs Shanu Khan from Birmingham, United Kingdom, a private firm employee and an avid reader of history said, ''The area where the incident took place is known for its relics since it was a part of the Gandhara civilisation. The history of Gandhara shows political rule of multiple dynasties over the centuries. Being a strategically located city and the centre of ancient trade routes, Taxila suffered repeated ownership conflict and was destroyed and rebuilt multiple times. However, the artefacts discovered from the excavated ancient site of Taxila show a remarkable uniformity of native cultural traditions that persisted through the Achaemenid, Greek, Mauryan, Indo-Greek, Scythian, Parthian, Kushan, Han and Hindu dynasties, up to the Muslim conquest in the beginning of the mediaeval period.''
Expressing his shock and anger, Md Ilyas Khan, a private firm employee who has a keen interest in historical artefacts, said from Monteverchi, Italy, ''Under the Mauryan dynasty, with Ashoka at the helm, Taxila reached a remarkable level of development. Since Ashoka adopted Buddhism as the state religion, which prevailed for over 1,000 years right up to 10 AD, hundreds of monasteries and stupas (Buddhist shrines) were built in the ancient cities of Sirkap and Sirsukh, along the ruins of Taxila and, from here, originated the unique Gandhara art of sculpture.''
Last Updated Jul 19, 2020, 4:54 PM IST