Chhattisgarh Election 2023: EC notice to Himanta Biswa Sarma over 'Akbar' remark
The Election Commission of India has served a notice to Assam Chief Minister Himanta Biswa Sarma for statements made during a campaign event in Chhattisgarh. Sarma's comments being scrutinized for their communal undertones and allegations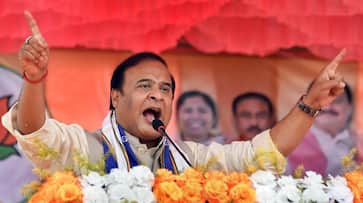 The Election Commission of India (ECI) has served a notice to Assam Chief Minister Himanta Biswa Sarma regarding a statement he made in Chhattisgarh concerning Congress leader Mohammed Akbar. The upcoming elections for the 90-member Chhattisgarh assembly are scheduled in two phases, on November 7 and 17.
The Election Commission, through its show-cause notice, has determined that specific portions of Sarma's speech delivered on October 18 may prima facie violate provisions of the Model Code of Conduct and the Representation of the People Act, 1951. The commission has requested Sarma's response to the notice by 5 pm on October 30.
The Congress party, in its complaint to the election body, alleged that Sarma made statements with communal undertones and unfounded allegations against their Kawardha candidate, Mohammed Akbar.
Sarma's remarks, as cited in the EC notice, included, "If one Akbar comes to one place, don't forget that they call a hundred Akbars. Therefore, bid farewell to Akbar as soon as possible, otherwise this land of Mother Kaushalya will be defiled." It's worth noting that Kaushalya, the mother of Lord Ram, is believed to have roots in what is now modern-day Chhattisgarh.
Furthermore, Sarma urged the electorate to support the BJP candidate from Kawardha, stating, "So, brothers and sisters, you must save Chhattisgarh. This sacred land of Maa Kaushalya must be preserved, and therefore, all of you should ensure Vijay Bhaiya's victory."
Another segment of Sarma's speech, flagged by the election commission, included comments about "Love Jihad" and conversions to Islam, implicating the Congress. The notice highlighted that such comments should not exacerbate existing differences or create tension between various castes, communities, or religious groups, as per the provision in the poll code.
In response to these concerns, the Election Commission of India has initiated proceedings to address the issue and ensure that the election process remains free from comments that could potentially incite division or discord among different sections of the population.
Last Updated Oct 27, 2023, 9:16 AM IST