Bengaluru violence case: After Ex-Mayor's arrest, MLA urges Cong chief Sonia Gandhi to expel him from party
After four months of absconding act, Bengaluru Ex-Mayor Sampath Raj was arrested by CCB sleuths yesterday. After Asianet Newsable first reported about his possible arrest and the Congress leader's act of getting himself hospitalized in October to avoid arrest, Sampath went absconding. Now after his arrest, MLA Akhanda Srinivasmurthy wants him expelled from the party.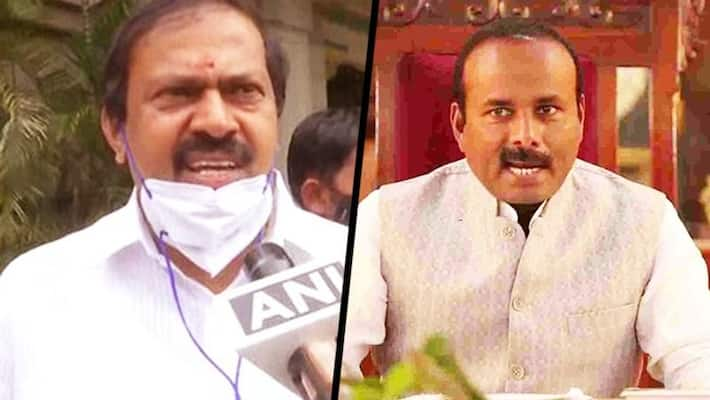 Bengaluru: After months of hide and seek game, Ex-Mayor Sampath Raj was finally nabbed in Monday in connection with allegedly plotting riots and arson in DJ Halli and attacking MLA Akhanda Srinivasmurthy's house. 
The police have not revealed much details from where he was arrested. Initially, an aide of Sampath Raj was arrested for shielding and helping the former mayor and his friend, former corporator AR Zakir to escape from the city.
After this arrest, now MLA Akhanda Srinivas says he will ask Congress chief Sonia Gandhi's intervention in this regard and request her to exxpel expel Sampath Raj from the party for tarnishing the image and reputation of the party and also attacking the the MLA. 
On August 11, a mob attacked DJ Halli Police Station, KJ Halli Police station and MLA Srinivasmurthy's house following a controversial post by MLA's nephew Naveen.
The mob was led by SDPI leaders and others. It is said that these leaders were in touch with Raj on that night.
The CCB Police had to fire to contain the mob that went on a rampage and burnt many vehicles. Four people died in during the police firing.
CCB police then arrested over 300 people in this connection. Husband of Nagwara corporator, Saleem Pasha was first arrested after a video footage showed people assembling near police station before the incident.
Later, the investigation pointed fingers towards Sampath Raj who aspired to be MLA of Pulakeshinagar and his friend AR Zakir for helping him.
The CCB arrested Arun, a relative of Raj and based on his statements the police have made the case watertight.
Last Updated Nov 17, 2020, 11:33 AM IST