Aditya L1 will travel 1.5 million kms, study energy sources from the Sun
Union Minister Dr Jitendra Singh lauded PM Narendra Modi for liberating India's space sector, leading to increased financial resources and startup growth in the field. Aditya-L1 will study solar energy sources from a strategic orbit around Lagrange point 1, providing uninterrupted observations of the Sun.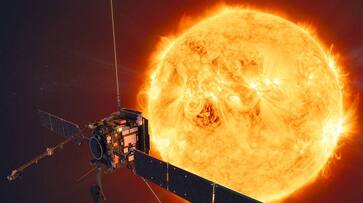 Union Minister of State (Independent Charge) for Science & Technology, Dr Jitendra Singh, revealed that India is on the verge of launching its first Sun mission, Aditya-L1, following the success of the Chandrayaan mission. The Indian Space Research Organisation (ISRO) is prepared for liftoff on September 2.
Dr Singh noted the heightened global interest in India's space missions, particularly following the acclaim garnered by the Chandrayaan mission. He commended Prime Minister Narendra Modi for his visionary decision to emancipate India's space sector from historical constraints, a move that no previous government had ventured to undertake.
Under the leadership of Prime Minister Modi, ISRO has witnessed a significant boost in its financial resources within a mere four years. The number of startups in the space sector has surged from just four to a remarkable 150. India's satellite launch capabilities have also earned newfound credibility.
India's involvement in launching European satellites has yielded more than 260 million Euros, and launching an American satellite has generated over 150 million Dollars.
Aditya-L1, the upcoming Sun space mission, will utilize the Polar Satellite Launch Vehicle (PSLV) and will carry seven onboard instruments. The spacecraft will be positioned in a halo orbit around Lagrange point-1 (L1) in the Sun-Earth system, situated approximately 1.5 million kilometres from Earth. 
This strategic orbit ensures continuous observation of the Sun without interruptions caused by eclipses.
Dr Singh emphasized that Aditya-L1, following the Mars and Moon missions, marks India's third significant mission. Its primary objective is to study and analyze the energy sources emanating from the Sun.
"India's space economy, currently valued at approximately $8 billion, holds a 2% share of the global market. However, there is widespread recognition of its accelerating growth. Conservative estimates project a value of $40 billion by 2040, but a recent report by ADL (Arthur D Little) suggests the potential for an astounding $100 billion by the same year. This remarkable trajectory is driven by India's rapid progress and frequent launch missions," stated Dr Singh.
He went on to announce that the Gaganyaan mission, a major undertaking, is set to conduct its first trial flight in the first or second week of October, following the Aditya-L1 Sun mission's launch on September 2. The upcoming second trial, expected to commence early next year, will introduce 'Vyommitra', a female robot, to the Gaganyaan mission, which ultimately aims to carry up to three astronauts into space.
Last Updated Aug 30, 2023, 8:10 PM IST