7 controversial statements of Yogi Adityanath on women, minorities
Women are like energy if they are not controlled they can be destructive and worthless
If men acquire women-like qualities, they become gods but when women acquire men like qualities, they become ('rakshasa') demon like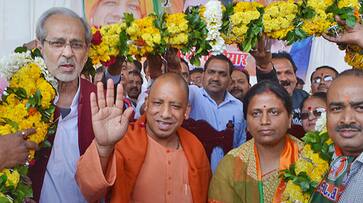 Uttar Pradesh CM Yogi Adityanath's website contains a lot about the man's vision, his discourses and his opinion on a lot of things related to nationalism,  Hinduism, westernisation, Islam, and women.
Going through his blogs around 2014, one would see very conflicting views on women and women empowerment. The problem is most of them are regressive. While on one hand he advocates respect for women, acknowledges their contribution to society, on the other hand, he quotes scriptures which talk about putting women in their space and the 'dangers' they propose to society and men in general.
Not only that, he also has some really strong views on homosexuality and Mother Teresa.
Here's a list of some things he has written and spoken
# Comparing women to energy, he says just like unbridled energy can be destructive and can go haywire, so too if the spirit of women are not controlled then it can prove dangerous.
#He also says that since childhood women are protected, first by her father, then in youth by her husband and finally in her old age by her son. So even the scriptures instruct that she needs to be protected at all times. Therefore, it means that a woman is not capable of being left alone.
#As you read further, one comes across paragraphs where talks of women being progressive and able enough to compete with men and how they have outshone men in many fields of life , but then you have this his argument against women's reservation, he asked that analysis should be done to see how much of the involvement of women in the local bodies would impact her primary role as caregiver, mother , daughter and sister. He began by saying that women already have reservations in many areas, what is the need for more.
 #Then the best of the lot "If men acquire women-like qualities, they become gods but when women acquire men like qualities, they become ('rakshasa') demon like."
#Explaining his take further he says how the concept of women's freedom of the western world is what is distracting the women here and it will hamper the creation and stability of the home and family and prevent the glorious rebuilding of the nation and motherland."
#Here's his opinion on homosexuals.He was asked about it when the Supreme Court verdict on Section 377 came out, recriminalising  homosexuality. In a video by News Desk India, Yogi Adityanath is heard having a not so pleasant take on it
#According to a report in the PTI Yogi Adityanath had accused Mother Teresa of being part of a conspiracy to "Christianise" India. Speaking at a religious meeting in Basti  last year, Yogi Adityanath said: "Mother Teresa was part of a conspiracy to convert Hindus to Christianity. Hindus were targeted in the name of doing service and then converted by her." Large-scale conversions to Christianity in the Northeast had led to a separatist movement in Arunachal Pradesh, Tripura, Meghalaya and Nagaland, he had said.  
Last Updated Mar 31, 2022, 5:10 PM IST