Celebrate the joy of giving; be an agent of change
Celebrate the joy of giving and be an agent of change for the needy and necessitous by participating in #DaanUtsav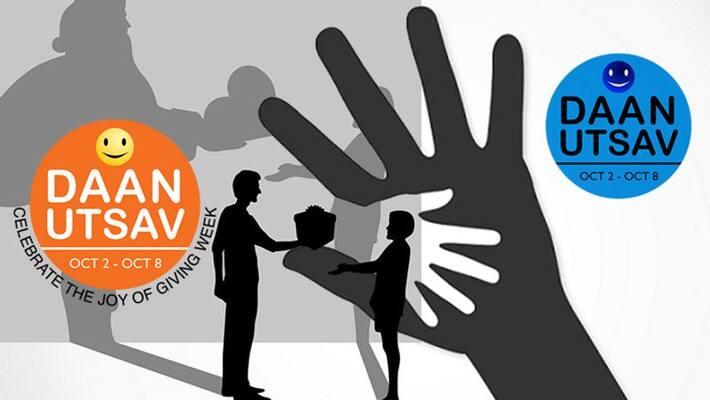 Bengaluru: GiveIndia in India is an NGO that exists to alleviate poverty by enabling the world to give. 
It is participating and collaborating with e-commerce comanies in what's called #DaanUtsav, a festival of philanthropy from October 2 to October 8 marking Mahatma Gandhi's birth anniversary. 
The festival is a people's movement for donating and celebrating the act of kindness and giving for social good. Campaigns are run by numerous partners where people from all walks of life and all strata of society can come forward and give in any way they wish to – donate through a campaign or to an NGO, shop for a cause or give in kind, or simply, give time.  
Speaking on the occasion, Atul Satija, CEO, GiveIndia said, "GiveIndia is a pioneer in bridging the gap between donors and trusted nonprofits. #DaanUtsav or the 'Joy of Giving' week is a great platform for us to boost our mission of alleviating poverty by enabling the world to give. Through this alliance, we are accelerating towards our aim to simplify giving at scale. Not only are we supporting our partners in their giving journey by connecting them with trusted non-profits but we are also reaching out to their millions of users and contributing towards the building of an everyday philanthropy ecosystem."
Various companies like Flipkart, Ola, BigBasket among others are collaborating with GiveIndia to reach and engage with over 200 million people. 
More about #DaanUtsav
#DaanUtsav is India's festival of giving, celebrated from October 2 –8, 2019 every year. The festival has become the biggest platform for philanthropy across India with many NGOs, corporates, schools, colleges, communities and celebrities coming forward to making it a big success. From CXOs to homemakers, vegetable vendors to designers and schoolchildren to company employees– this is a people's movement to offer their time, skills, money, etc. for social good. The 2018 edition of the festival saw more than 6 million people from over 200 towns, cities and villages across the country celebrating the festival. 
Last Updated Oct 3, 2019, 4:27 PM IST