The General because of whom Indian soldiers are deployed in 11 countries today
India's pivotal role in United Nations peacekeeping efforts is highlighted by its rank as the third-largest contributor to these missions. Army Chief General Manoj Pandey credited General Sunith Francis Rodrigues for this.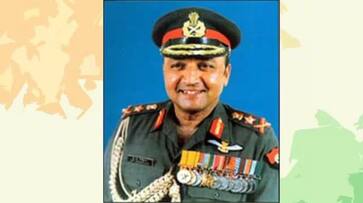 India holds the third position in United Nations peacekeeping operations, with more than 6,000 Indian soldiers currently deployed across 11 missions worldwide, according to Army Chief General Manoj Pandey. These missions are a vital part of India's role in maintaining global peace, especially as the United Nations Peacekeeping Force recently celebrated its 70th anniversary.
UN Peacekeeping's 70th Anniversary
On May 29, the United Nations Peacekeeping Force marked its 70th anniversary, underscoring its unparalleled contributions to global peace since its inception in 1948. India has consistently played a crucial role in this organization, securing the third position globally in terms of military contributions to UN peacekeeping missions.
Credit for Indian Army Deployment in UN Missions
Army Chief General Manoj Pandey attributes the credit for the deployment of Indian Army personnel in UN missions to India's 16th Army Chief, General Sunith Francis Rodrigues. General Pandey made this statement during a lecture on 'Ukraine: The Changing Character of War and Firing' held at the Manekshaw Center in New Delhi.
Expanding Indian Army Presence in UN Missions
General Pandey emphasized that under the leadership of General Rodrigues, the deployment of Indian Army personnel in UN missions experienced significant growth. The deployment increased from just eight personnel in 1991 to 1000 in 1992 and reached 6300 in 1993. India now ranks third, following Bangladesh and Nepal, in terms of contributing troops to UN peacekeeping efforts, with over 6000 Indian soldiers serving in 11 missions worldwide.
Inclusion of Women in the Indian Army
General Manoj Pandey highlighted General Rodrigues' role in advancing the modernization of the Indian Army. He noted that the inclusion of women officers in departments beyond the Medical Corps began in 1992 during General Rodrigues' tenure as Chief of Army Staff. Today, there are over 1700 women officers in the Indian Army, with 740 having received permanent commissions and 114 approved for command assignments. The Military Police Corps comprises over 100 women in regular positions, and 100 newly appointed women have joined as Agniveers.
Legacy of General Sunith Francis Rodrigues
General SF Rodrigues' military journey began in 1949 at the Indian Military Academy, leading to his commission into the Regiment of Artillery in 1952. He actively participated in the wars of 1962 and 1965 and served as the Indian Army's leader from July 1990 to 1993. 
General Rodrigues also contributed to national security as a two-term member of the National Security Advisory Board and served as the Governor of Punjab from 2004 to 2010. Even after retirement, he remained involved in social and literary activities and engaged in discussions on strategic issues until his passing on March 4, 2022.
Last Updated Sep 20, 2023, 12:26 PM IST