PM Modi's France Visit: Deal for 26 Rafale-M fighter jets, 3 Scorpene submarines inches closer
Just prior to PM Narendra Modi's upcoming trip to France for the Bastille Day Parade on July 14, the Defence Procurement Board (DPB) has presented a proposal for the acquisition of Rafale-Marine (M) combat fighter aircraft for the Indian Navy. This procurement aims to enhance Navy's capabilities in maritime air combat.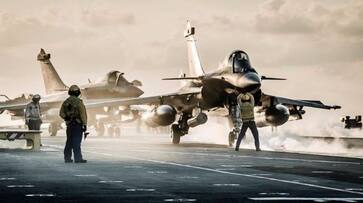 Days ahead of Prime Minister Narendra Modi's scheduled visit to France for Bastille Day Parade on July 14, the Defence Procurement Board (DPB) moved a proposal on Monday to procure of Rafale-Marine (M) combat fighter aircraft for the Indian Navy. The induction of Rafale-M fighters would strengthen maritime air combat capability. The DPB has also moved a proposal to build three additional Scorpene submarines which would enhance Indian Navy's underwater combat capability.
The deal to buy 26 Rafale-M fighter jets and three scorpene submarines is expected to be announced during Prime Minister Modi's two-day visit. 
Among 26 Rafale-M fighter jets, 22 would be single-seater and four double-seater trainer jets. Confirming the proposals, the sources in the defence and security establishment said: "The DPB has moved the proposal and the next process would be to get approval in the defence acquisition council (DAC)."
The DAC meeting is likely to take place on July 12. The DAC is the highest decision-making body in the Ministry of Defence on issues related to policy and capital procurement, chaired by the Defence Minister. It grants Acceptance of Necessity (AoN).
Last year, the Indian Navy submitted a detailed trial-evaluation report on the performance of American F/A-18 Super Hornet and French Rafale (M) fighter aircraft to the defence ministry.
The two fighter jets demonstrated their capabilities in 2022 at the shore-based test facility (SBTF) at INS Hansa in Goa, which has a ski jump. The Indian Navy had given preference to the French Rafale-M over the American F/A-18 Super Hornet. 
These aircraft will be deployed on the newly-inducted aircraft carrier INS Vikrant.
It should be mentioned that the Indian Air Force has been operating 36 Rafale aircraft worth Rs 58,000 crore. The deal was concluded under an inter-government agreement in 2016.
On November 27 last year, a French delegation led by Defence Minister Sebastien Lecornu visited the INS Vikrant in Kochi. Currently, the Indian Navy operates the Russian-origin Mig-29K aircraft from INS Vikramaditya.
As of now, the Indian Navy wants fighter jets for an interim arrangement as it has been pushing for indigenous aircraft. 
At the annual Indian Navy Day press conference, Naval Chief Admiral R Hari Kumar stated that the future of Indian naval aviation was the indigenous Twin Engine Deck-Based Fighter (TEDBF), whose prototype is expected by 2026-27 and production to start in 2032.
Last Updated Jul 11, 2023, 10:28 AM IST