Manipur violence: Mob attempts to loot weapons from IRB camp; women activists continue to block routes
On Tuesday, a mob tried to steal weapons from an IRB camp in Manipur's Thoubal district, sparking a confrontation with the security forces that resulted in the death of a 27-year-old man.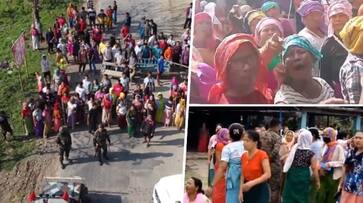 New Delhi: Despite repeated appeals by the Indian Army to the people of Manipur seeking help in maintaining the law and order situation in the crisis-strife state, the anti-social elements continued attempting to loot the security forces' weapons with women activists blocking the routes and interfering in the operations. 
Also read: Manipur Violence: Supreme Court seeks status report from state govt by July 10
On June 4, they attempted to loot weapons from Indian Reserve Battalion (IRB) at Thoubal district's Khangabok. However, the security forces thwarted their attempt. 
"One rioter was killed while few others were injured during the failed attempt," an official said. "Mob had laid roadblocks to prevent movement of reinforcements."
"Additional columns of Assam Rifles and Rapid Action Force were able to induct and situation was brought under control by synergised efforts of Security Forces," the official added.
Also read: Manipur CM Biren Singh gets into Twitter spat with Kuki users, then deletes
In the clashes, a 27-year-old man, identified as Ronaldo, was shot. He was first taken to the Thoubal district hospital, but later referred to a hospital in Imphal as his condition was critical. He died on the way to the state capital, officials said.
Ten others were also injured in the clashes, they said.
On June 26, at several places, women activists had deliberately blocked the routes and interfered in the security forces operations. 
The Indian Army had issued a statement and said, "Such unwarranted interference is detrimental to the timely response by Security Forces during critical situations to save lives and property."
"Indian Army appeals to all sections of the population to support our endeavours in restoring peace."
The operations against the wrongdoers are underway ever since the state witnessed violence in the wake of Meiteis demanding inclusion of their caste in ST lists.
In the past, several KYKL cadres were apprehended along with arms, ammunition and War like stores in the Imphal East district.
Also read: Manipur Violence: No bifurcation, No separate administration... Must find 'middle path to peace', say experts
Violence erupted in Manipur following a 'Tribal Solidarity March' held on May 3, which aimed to protest against the Meitei community's request for Scheduled Tribe (ST) status. The conflict has resulted in over 100 fatalities, numerous injuries, and the displacement of thousands who have sought refuge in relief camps.
The Meitei community, comprising approximately 53 per cent of Manipur's population and predominantly residing in the Imphal Valley, clashed with the Tribal Nagas and Kukis, who make up around 40 per cent of the population and primarily inhabit the hill districts.
Last Updated Jul 5, 2023, 12:23 PM IST