Maiden sea trials of Made-in-India autonomous Fast Interceptor Boat in November
The unmanned boat possesses versatile capabilities, making it suitable for a wide range of naval and security missions. These include intelligence, surveillance, and reconnaissance tasks, ship escort duties, mine clearance operations, supply delivery missions, patrols, and combat assignments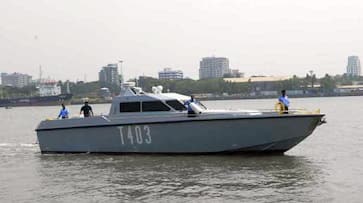 Indian Navy will begin its maiden sea trials of its indigenous Autonomous Fast Interceptor Boat (A-FIB) from Goa to Mumbai in November. Built by Goa Shipyard Limited, the trials were to take place in May but had to be postponed by six months due to bad weather. Capable of carrying out autonomous operations in dense maritime traffic, the autonomous boat is 15m long and will be crewless. The A-FIB can automatically navigate the routes and during the sea trials, its endurance will be checked. 
Sources in the Indian Navy told Asianet Newsable that the boat will be flagged off from Vasco. It has been jointly developed by Indian Navy's Weapons and Electronics Systems Engineering Establishment (WESEE) and Bharat Electronics Limited (BEL) under Technology Incubation Forum (TIF).
The boat can perform a number of naval and security missions, including intelligence, surveillance and reconnaissance. The unmanned boat can also be used in ship escort, mine clearance, supply delivery, patrol, and combat. The boat boasts multiple navigation modes, including Way-point-navigation (WPN), manual controlled navigation (MCN) from a remote station, and Software Driven Autonomous Navigation (SDAN) mode.
Equipped with an Advanced Autonomous Navigation and Control Software (A2NCS) suite developed indigenously, the A-FIB features cutting-edge algorithms for mission planning, optimal trajectory selection, navigation guidance, and propulsion control. Sensor data from radar, AIS, gyroscope, GPS, and the engine are fused to make informed navigation decisions.
After undergoing numerous trials in Goa and Karwar harbours, the indigenous A-FIB (capable of ocean sailing) showcases static and dynamic collision avoidance capabilities, a first of its kind in India. The Navy plans to induct the A-FIB for various roles. The maiden sea trials mark a significant milestone for the 'Make in India' initiative, showcasing the country's prowess in autonomous technologies and positioning it among a select group of nations with the capability to develop seaworthy autonomous surface vessels.
Last Updated Jul 24, 2023, 7:15 AM IST