Indian Army-IAF contingent heads to Kazakhstan for KAZIND 2023
This annual exercise, initially known as 'Exercise PRABAL DOSTYK,' was established in 2016 and has now evolved into a bi-service exercise, incorporating the Indian Air Force component. The objective of the exercise is to simulate counter-terrorism operations under United Nations mandates.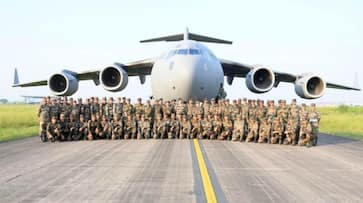 A contingent of 120 personnel from the Indian Army and the Indian Air Force embarked on a mission of camaraderie and military cooperation, as they set out for Kazakhstan to participate in the 7th edition of the Joint Military Exercise KAZIND-2023. Departing on a Sunday, this dedicated team will engage in a series of collaborative exercises at Otar, Kazakhstan, spanning from October 30 to November 11, 2023.
Comprising 90 soldiers, the Indian Army contingent is under the capable leadership of a battalion from the illustrious DOGRA Regiment. On the other side, the Kazakhstan contingent primarily consists of personnel from the Regional Command South of the Kazakh Ground Forces. Adding an aerial dimension to the proceedings, 30 personnel from the Air Force will join their comrades from the Army, solidifying the unity and cooperative spirit of the exercise.
This annual joint exercise, initially known as 'Exercise PRABAL DOSTYK,' was established in 2016 to foster military ties between India and Kazakhstan. Evolving rapidly, it transitioned into a company-level exercise after the second edition and was renamed 'Exercise KAZIND.' This year, the exercise takes a significant leap forward by incorporating the Air Force component, officially transforming into a Bi-service Exercise.
The primary objective of the 7th edition of Exercise KAZIND is to simulate and practice counter-terrorism operations within a sub-conventional environment while adhering to United Nations mandates. Both contingents will jointly rehearse various tactical maneuvers, including raids, search and destroy operations, small team insertions and extractions, and counter-unmanned aerial system operations.
This exercise offers a unique opportunity for the Indian and Kazakh military forces to familiarize themselves with each other's tactics, battle drills, and procedures, crucial when operating under the umbrella of the United Nations. The joint training will develop the essential skills, resilience, and coordination required to conduct military operations effectively, particularly in semi-urban and urban environments.
Exercise KAZIND-2023 also serves as a platform for the exchange of knowledge and the sharing of best practices. Both sides will have the chance to hone a wide spectrum of combat skills and mutually benefit from the experience. Ultimately, this exercise further bolsters the already strong bond between the two nations' armies, enhancing their readiness and collaboration on the global stage. As they march forward, these brave men and women are not only strengthening their own capabilities but also fostering international relations through the language of cooperation and shared goals.
Last Updated Oct 29, 2023, 4:59 PM IST