India accelerates construction of next 43000-ton aircraft carrier
The Ministry of Defence aims to learn from past setbacks, with Cochin Shipyard Ltd (CSL) tasked with the project. The estimated cost is approximately $4.81 billion, and 'significant modifications and enhancements' are planned compared to Vikrant. Girish Linganna reports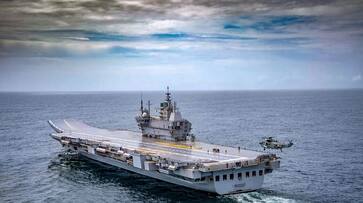 India's first domestically constructed aircraft carrier experienced a significant delay of six years, but the nation believes it can improve its timing with the next vessel. The Ministry of Defence (MoD) is expediting the Indian Navy's (IN) plan to domestically construct a second 43,000-ton aircraft carrier, akin to the INS Vikrant which was commissioned last year.
During its meeting on September 22, the Defence Procurement Board (DPB) of the Ministry of Defence (MoD) deliberated on different aspects related to the construction of the Indigenous Aircraft Carrier-2 (IAC-2) at Cochin Shipyard Ltd (CSL). The CSL, the same shipyard that built the Vikrant, is tasked with this project, which is estimated to cost around Rs 400 billion (approximately $4.81 billion).
According to inside sources, it is anticipated that the Defence Procurement Board (DPB) will soon send the proposal for IAC-2, which includes 'significant modifications and enhancements' compared to Vikrant, for approval to the Defence Acquisition Council. This step is expected to take place before the project officially commences.
On September 1, Chief of Naval Staff Admiral R Hari Kumar told media persons, "We are in the process of developing a third aircraft carrier, which will follow the same design as Vikrant." He emphasized that Cochin Shipyard Ltd's expertise gained during the construction of Vikrant would be utilized for building IAC-2. However, he did not specify a timeline for its commissioning.
In February, Kumar mentioned that due to the extended timeframes involved in constructing a carrier domestically, there's a possibility that IAC-2 might ultimately serve as a replacement for INS Vikramaditya. INS Vikramaditya is a refurbished Russian Kiev-class carrier that became part of the Indian Navy in late 2013.
Although Vikrant, launched in 2013, faced a delay of almost six years, industry officials have indicated that the construction of IAC-2 will proceed at a 'swifter' pace.
The Indian Navy (IN) has maintained a vision of becoming a three-carrier force, with one carrier for each of its coastlines and an additional one in reserve. This strategy is aimed at meeting operational needs in a challenging neighbourhood. Parliamentary committees over the years have consistently recognized the necessity of having a third carrier, considering India's extensive coastline and the presence of potential adversaries on both maritime flanks.
As a result, in May 2015, the Ministry of Defence allocated Rs 300 million to the Directorate of Naval Design to initiate the conceptualization of plans for IAC-2. Back then, it was envisioned as a 65,000-ton electrically powered aircraft carrier, tentatively named Vishal, with an estimated cost of approximately Rs 900 billion.
The planned aircraft carrier was supposed to incorporate a catapult-assisted take-off but arrested recovery system and was expected to accommodate 50-60 fixed-wing and rotary-wing aircraft. Nevertheless, the proposal was ultimately scrapped because of its expensive nature and technological difficulties.
Currently, INS Vikramaditya and INS Vikrant are incorporated with the STOBAR system. 
While the Catapult-Assisted Take-Off (CATOBAR) helps big aircraft on aircraft carriers to take off like a slingshot, even if they're really heavy, in Short Take-Off But Arrested Recovery (STOBAR), planes use a shorter runway on the carrier, and when they come back, they stop by using big cables like a giant rubber band. It's a way to fly smaller planes from a smaller space.
In the meantime, Vikrant, currently engaged in flight trials alongside the Indian Navy's MiG-29K/KUB fighters, is anticipated to achieve full operational status by the end of the year, as per officials. There are plans for it to eventually accommodate 26 Rafale M fighters, with negotiations for their procurement currently underway.
Last Updated Sep 30, 2023, 12:34 PM IST