Historic first: 26 women from tri-service to embark on 900-km bike rally in tribute to Kargil War heroes
A group of 26 women from the tri-service is set to make history with a 900-km bike rally from Delhi to Kargil War Memorial, honouring the bravehearts who sacrificed during the 1999 war.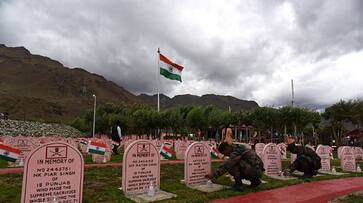 New Delhi: For the first time, a group of 26 women from tri-service will be participating in an over 900-km bike rally to be flagged off from National War Memorial in Delhi on July 18. 
The all-woman tri-service bike rally which culminates at Kargil War Memorial in Drass on July 26, will be flagged off by the Indian Army chief, Gen Manoj Pande and Army Wives Welfare Association President Archana Pande.
Also read: When 'Kargil episode' set Musharraf and Sharif on track of collision
The rally is being organised to commemorate the bravehearts who made their supreme sacrifice in protecting the sovereignty and integrity of the country during the 1999 Kargil conflict with Pakistani Army.
"The rally is aimed at showcasing the "bold and indomitable spirit of women" through the women bikers thereby contributing to the mission of "Nari Sashaktikaran " at the national level," an official said.
Among the 26 tri-service bikers, the participants are serving women officers and non-commissioned officers, spouses of serving and retired personnel and Veer Naris.
There are two Veer Naris from the Indian Army, 14 serving officers, including 11 from Indian Army, 2 from Indian Air Force and 1 from Indian Navy. Besides, there are two non-commissioned officers.
Also, 8 women who are either the spouses of serving or retired officers are also participating in the 9-day-long bike expedition. Two officers have been kept in reserve.
Also read: Kargil War Hero, Captain Akhilesh Saxena, Recounts His Days During Operation Vijay
After being flagged off from Delhi, these bikers will cross the cities and towns of states like Haryana, Punjab, Himachal Pradesh, Jammu & Kashmir to finally reach the destination in Ladakh.
It must be mentioned that the rally is being conducted under the aegis of HQ Northern Command.
Last Updated Jul 16, 2023, 12:20 PM IST