Explained: Behind India's move to build Super Su-30MKIs fighters
The upgrade program, conducted by Hindustan Aeronautics Ltd (HAL), will focus on advanced technology integration, including AESA radar, electronic warfare systems, and hypersonic missile capabilities. Defence Analyst Girish Linganna explains
India is taking steps to upgrade and modernize its Su-30MKI fighter aircraft, driven by concerns about the strengthening air capabilities of neighbouring nations such as Pakistan and China. These upgrades will incorporate various new technologies developed within the country's domestic defence sector. As part of its continuous endeavours to boost the capabilities of its main fighter aircraft, India is working towards transforming it into a version known as the 'Super Sukhoi'.
The upgrade program for India's Su-30MKI fighter jets will be conducted by Hindustan Aeronautics Ltd (HAL) at an anticipated cost of approximately 56,250 crore Indian Rupees (INR), with all work taking place domestically. Nevertheless, collaboration with Russia's United Aircraft Corporation (UAC) remains essential.
The Indian Air Force holds the distinction of being the largest operator of Su-30MKI aircraft outside of Russia, with 272 locally produced under license by Hindustan Aeronautics Limited (HAL). The effort to enhance the capabilities of India's primary fighter aircraft is slated to begin in 2026, with the objective of aligning the Su-30MKI with the advancing demands of modern warfare technology and capabilities.
New Delhi may encounter notable hurdles if it fails to elevate its Su-30MKI fighter jets to the "Super Sukhoi" standard, given that its counterparts like Pakistan and China currently possess more advanced fighter aircraft equipped with Active Electronically Scanned Array (AESA) radar technology.
India's apprehensions regarding the effectiveness of its Su-30MKI aircraft became evident when the Pakistan Air Force introduced the JF-17 Block 3 fighter aircraft, reportedly influenced by China's fifth-generation J-20 'Mighty Dragon' aircraft.
Alongside the JF-17 Block 3, Pakistan has also procured China's J-10C fighter jets, notable for their larger AESA radars featuring both transmit and receive modules. During times of increased tension caused by ongoing border disputes between the two neighbouring countries, Beijing has reportedly stationed its advanced J-20 fighter aircraft at airbases in northern India as well.
India and China have also been involved in armed clashes on multiple occasions. Local media reports suggest that approximately 80 to 100 Su-30MKI fighter jets will undergo upgrades in the program's initial phase, with plans to eventually extend the modernization to the entire Indian Air Force fleet of these aircraft.
Nevertheless, the upgrade initiatives will exclude any modifications to the airframe and engines of India's Su-30MKI aircraft.
Currently, India's Su-30MKI fighter jets are equipped with AL-31 F Engines manufactured by a Russian company called NPO Saturn. As per sources, the upgrade initiatives will encompass outfitting the fighter aircraft with Beyond Visual Range (BVR) capabilities, modern electronic warfare systems, and AESA radar.
The AESA radar set to be installed on the Su-30MKI as part of the upgrade program is a domestically-developed version named 'Uttam', originally being developed for the Tejas Mk1A aircraft.
Indian defence media reports indicate that the AESA radar destined for the Su-30MKI will feature larger Transmit and Receive (TR) modules, aiming to enhance its tracking and targeting capabilities.
Apart from integrating AESA radar, the Su-30MKI upgrade program in India will also involve enhancing the fighter's flight control systems to support the carriage of hypersonic guided missiles and various other guided munitions.
Within the framework of this program, the Su-30MKI aircraft will also be furnished with a new Mission Computer, an enlarged touchscreen cockpit display, and an updated weapon systems package.
The program's objective is to annually upgrade around 25 Su-30MKI aircraft, with the goal of completing upgrades for all the aircraft by the year 2034.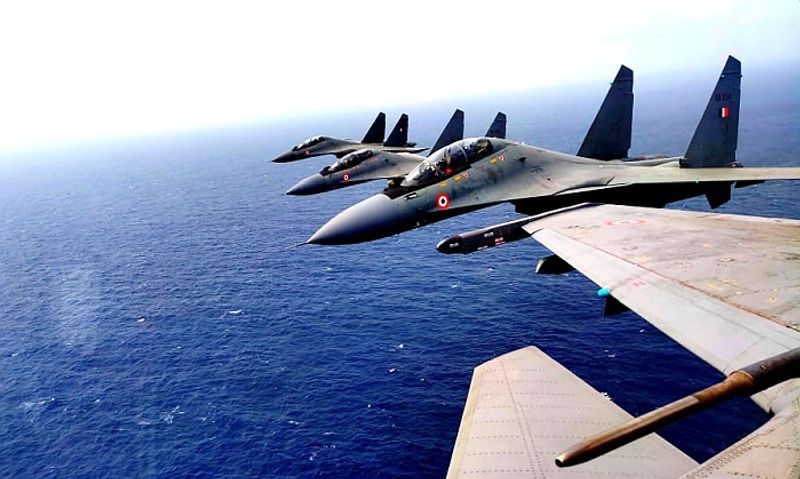 What is AESA Radar? 
AESA radar stands for 'Active Electronically Scanned Array' radar. Radar is crucial for detecting and tracking enemy aircraft, ships, and missiles. It provides early warning and situational awareness, helping military pilots make informed decisions during combat.
Imagine traditional radar like a flashlight that you have to manually move around to see things in the dark. AESA radar is like having a bunch of tiny flashlights that can each point in different directions simultaneously.
A traditional radar sends out one radar signal at a time and then waits for the signal to bounce back (like a single flashlight beam). This can be slower and less flexible. The AESA Radar, on the other hand, uses lots of small radar modules that can individually send out and receive signals. These modules can work together to scan multiple areas at once, providing faster and more precise information (like having many flashlights that can point wherever you want). So, AESA radar is faster, more efficient, and can track multiple targets at the same time, making it much more useful in modern military aircraft and other applications where quick and accurate information is crucial.
Last Updated Oct 7, 2023, 10:55 AM IST