CDS, service chiefs clear the air for veterans over disability pension entitlement
Indian Armed Forces' top officials, including Chief of Defence Staff Gen Anil Chauhan, clarify concerns regarding the revised disability pension entitlement rules for ex-servicemen. The rules will apply to those retiring after September 21, 2023, without retroactive impact.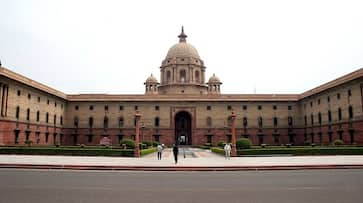 The Indian Armed Forces on Friday came forward to clear the apprehensions that erupted in the veteran community over the revised Entitlement Rules on the grant of disability pension to personnel of three Services. Chief of Defence Staff Gen Anil Chauhan, Indian Navy Chief Admiral R Hari Kumar, Indian Air Force chief ACM VR Chaudhari, Indian Army Vice Chief Lt Gen Suchindra Kumar and Adjutant General Lt Gen Bansi Ponnapa held a press conference on the concerns raised by ex-servicemen regarding revised eligibility criteria for disability pension. 
Talking to media persons, Gen Anil Chauhan said: "The first and most important thing is that the provisions of this entitlement rules will be applicable to those persons who retire after September 21, 2023. There is no retrospective application of these provisions and also there is no change in the entitlement for any category of persons being granted compensation for death or disability."
Running the 16-lakh-strong forces with operational efficiency, keeping the troops' motivational level high, stopping the misusing of the entitlement rules and encouraging the personnel to be physically fit are among the reasons cited by the top brass of the Indian defence forces to bring the revised entitlement rules.
In lieu of the 'disability element', the armed forces have renamed it to 'impairment relief', covering lifestyle diseases such as hypertension and diabetes. 
Gen Anil Chauhan said: "The disability element has been renamed as Impairment Relief in respect of only those personnel who are not invalidated out due to their nature of disabilities and continue to serve till their term of engagement."
It must be noted that earlier this year the Comptroller and Auditor General (CAG) in its report stated that around 40 per cent of officers and 18 per cent of personnel below officer rank (PBOR) who retire every year were drawing disability pensions. It had the defence ministry conduct a study on it. 
After its introduction, the new rules drew flak from several veterans, ex-servicemen associations and opposition parties who claimed that the terms were being tweaked to cut down on disability pensions. 
The General officer further said under physical disability "We have increased the grant from 30 per cent to 50 per cent. Earlier, it was flat 30 per cent." For amputation of fingers, the grant has been raised to 20 per cent from 14 per cent and for frostbite its 20 per cent from 10 per cent while for seizure and other disorder it has been reduced to 5 per cent from 20 per cent.
A veteran, Col Amit Kumar had said on X: "The disability percentage for hypertension induced by stress and strain of military service has been reduced from 30 per cent to a mere 5 per cent to take it below the minimum required figure of 20 per cent for disability benefits."
"The Supreme Court has ruled that the place of posting has no implication on disability and death benefits, the new rules totally eliminate most common disabilities and deaths occurring all over India and restrict them to High Altitude Areas, that too, if the service in high altitude is more than three months," he added.
After examining the disability pensions disbursed to personnel discharged from service between 2015-16 and 2019-20, the CAG in its report tabled in Parliament in March said: "The percentage of personnel retiring with disability to the total retirees ranged between 36 per cent and 40 per cent in case of officers, and between 15 per cent and 18 per cent in case of PBORs."
The report further stated that 22 per cent and 13 per cent of the disability pensions granted to officers and PBORs, respectively, were exclusively on the grounds of lifestyle diseases.
In the past, a Director-General of Armed Forces Medical Services in a letter to the Defence Secretary had expressed the 'alarming trend' emerging in the Services with regard to claims for disability pension by senior officers of the rank of Lieutenant-General and Major-General, and their equivalent.
Last Updated Oct 6, 2023, 8:19 PM IST