Boxer MC Mary Kom may be inducted in Territorial Army: Sources
This move aligns with a tradition of extending Honorary Ranks in the Territorial Army to prominent individuals from various fields. Notable figures like cricketers Kapil Dev, Mahendra Singh Dhoni, Olympic medalist Abhinav Bindra, and politicians Sachin Pilot and Anurag Singh Thakur already hold Honorary Ranks within the Territorial Army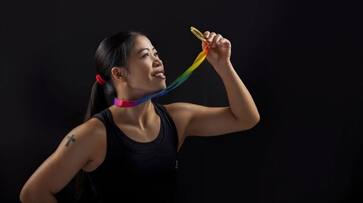 Former Rajya Sabha member and Olympic medalist MC Mary Kom is likely to be inducted into Indian Army's Territorial Army as an honorary officer. A top source within the defense establishment revealed that discussions are underway regarding granting her this honorary rank, recognizing her as a world boxing champion.
This move aligns with a tradition of extending Honorary Ranks in the Territorial Army to prominent individuals from various fields. Notable figures like cricketers Kapil Dev, Mahendra Singh Dhoni, Olympic medalist Abhinav Bindra, and politicians Sachin Pilot and Anurag Singh Thakur already hold Honorary Ranks within the Territorial Army. Additionally, cricket legend Sachin Tendulkar currently serves as an Honorary Group Captain in the Indian Air Force.
These honorary commissions serve not only to honour accomplished individuals but also to project a positive image of the Territorial Army and encourage support for national causes. The interactions between celebrities and troops have a motivating effect, inspiring both service members and professionals to join the Territorial Army.
The Territorial Army, often referred to as the Citizens' Force, supports the regular Indian Army and maintains a gender-neutral policy. It comprises a total of 60 Units, with 14 women officers being inducted since 2019. Each unit combines regular army officers and personnel with Territorial Army Cadre members.
The Territorial Army Units consist of officers, including the Commanding Officer (CO), the Second-in-Command (2IC), and the Adjutant, as well as Junior Commissioned Officers (JCO) and Other Ranks (OR) from the Indian Army. Each unit is structured into six Companies, each with approximately 100 soldiers.
The Territorial Army features both Departmental and Non-Departmental Units, including 43 Infantry Territorial Army units and 14 departmental units like those associated with Railways and Petroleum, along with three Engineers units. Special funding provisions come from various ministries, including the Ministry of Environment and Forest, Jal Shakti, Railways, and Petroleum.
Furthermore, the Territorial Army operates 10 Special Ecological Task Force (ETF) Units deployed in different geographic regions, contributing to extensive tree planting and environmental conservation efforts. Among these, the Ganga Task Force plays a vital role in safeguarding riverbanks and preventing illegal activities.
The Territorial Army is dedicated to serving the nation across a diverse range of regions, from Ladakh to Manipur, and from the Rann of Kutch to Manipur. During times of crisis, such as the Manipur crisis, the Territorial Army steps in to establish rehabilitation camps and maintain essential services when logistical and supply chains are disrupted.
Additionally, the Territorial Army plays a pivotal role in counter-insurgency and counter-terrorism operations in Jammu and Kashmir and the Northeast (NE) regions. It is also actively involved in safeguarding Border Roads Organisation locations and providing security for railways in the NE and insurgency-prone areas.
Having been established in 1949, the Territorial Army has reached its 75th year of service and has made significant contributions to India's defence efforts in every war since the 1965 India-Pakistan war.
Last Updated Oct 8, 2023, 10:26 AM IST