91st Air Force Day: Iconic Dakota DC-3 VP 905 takes flight (WATCH)
Named 'Parashurama,' this aircraft played a crucial role in India's history, particularly during the 1947/48 events in Jammu and Kashmir. Officially welcomed into the IAF's Vintage Squadron in 2018, it stands as a symbol of valor and heritage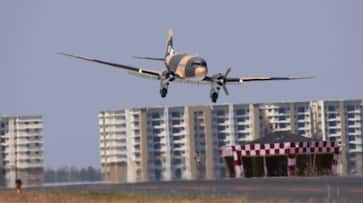 The 91st Indian Air Force Day celebration in Prayagraj showcased the meticulously restored Dakota DC-3 VP 905, a historic aircraft gifted to the Indian Air Force by Union Minister Rajeev Chandrasekhar. This remarkable aircraft, affectionately named 'Parashurama' after the sixth avatar of Vishnu, holds legendary status for its pivotal role in India's history, particularly during the 1947/48 events concerning Pakistan's efforts in Jammu and Kashmir.
On May 4, 2018, the Dakota DC-3 was officially welcomed into the IAF's Vintage Squadron at Air Force Station Hindan, proudly displaying its distinctive tail number VP 905. Minister Rajeev Chandrasekhar's deep connection to this aircraft, stemming from his father Air Commodore (retd) M K Chandrasekhar's service as a Dakota pilot in the IAF, adds a personal touch to this remarkable gift.
The Dakota DC-3's journey is nothing short of extraordinary. This unique aircraft, an integral part of the Indian Air Force's history, was acquired and lovingly restored in the UK. Following the retirement of the Dakota fleet, the last of these aircraft faced an uncertain fate, being sold as scrap by 2010. In 2011, Rajeev Chandrasekhar embarked on a mission to preserve history by purchasing a Dakota offered for sale in Ireland.
The journey to gift this Dakota aircraft to the IAF wasn't without its challenges. Initially met with rejection, citing a lack of precedent, Chandrasekhar's proposal to gift the Dakota at his own expense was turned down by the then Minister of Defence, AK Antony. However, it was under the leadership of Manohar Parrikar, the Defence Minister in the BJP government, that the proposal was eventually approved, paving the way for the full restoration of this iconic aircraft.
The Dakota DC-3, affectionately known as the "Gooney Bird," holds a special place in the annals of the Indian Air Force. It was the IAF's first major transport aircraft and played a pivotal role in historic conflicts, including the 1947 Kashmir conflict and the 1971 Bangladesh War. The restoration and inclusion of this aircraft in the IAF's Vintage Squadron stand as a testament to its enduring legacy.
Last Updated Oct 8, 2023, 3:33 PM IST