77th Infantry Day: India salutes its ultimate infantrymen (WATCH)
Infantry Day in India, observed on October 27th, commemorates the bravery and sacrifice of Indian infantry units during the first Indo-Pak war in 1947. As they defended their nation in challenging mountainous terrain, their unwavering dedication played a crucial role in securing key positions and repelling the invaders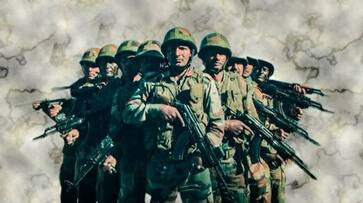 Every year on October 27, the nation celebrates Infantry Day to commemorate the valour and sacrifice of Indian infantrymen who played a pivotal role during the first India-Pakistan war in 1947. 
Background
In 1947, India gained independence from British colonial rule, and as a result, the Indian subcontinent was partitioned into two nations: India and Pakistan. However, the partition was accompanied by widespread communal violence and displacement, particularly in the province of Jammu and Kashmir. The princely state of Jammu and Kashmir, located in the northern part of the subcontinent, became a contentious territory, coveted by both India and Pakistan.
The Invasion
In late October 1947, the situation in Jammu and Kashmir deteriorated significantly. Tribesmen, along with regular troops from Pakistan, invaded the state. The Maharaja of Jammu and Kashmir sought India's assistance to repel the invasion, and in response, the Indian government dispatched its troops to the region.
The Role of the Infantry
The Indian infantry units, which form the backbone of any army, played a crucial role in this conflict. These foot soldiers were tasked with the formidable challenge of fighting in challenging mountainous terrain, often under harsh weather conditions. Their unwavering commitment and bravery in the face of adversity were instrumental in holding back the Pakistani invaders and securing key positions.
The Battle of Badgam
One of the most significant engagements that demonstrated the valour of the Indian infantry was the Battle of Badgam. In this battle, Indian infantry units fought fiercely against the tribal invaders, eventually forcing them to retreat. The determined defence of Badgam by Indian infantry units remains a symbol of their courage and resilience.
The Outcome
The conflict in Jammu and Kashmir continued for several months, leading to the first Indo-Pak war. Ultimately, the United Nations intervened, and a ceasefire was declared in December 1948. The ceasefire line, known as the Line of Control (LoC), divided the region between India and Pakistan. However, the dispute over Jammu and Kashmir remains unresolved to this day.
Infantry Day
In recognition of the sacrifices and valour displayed by Indian infantrymen during this critical period, the Indian Army celebrates October 27 as Infantry Day. On this day, the entire nation pays tribute to the infantry units and their contribution to the country's defence. The day is marked by various ceremonies and events to honour the infantry's unwavering dedication and bravery. Infantry Day in India is a day of remembrance and gratitude for the courage and commitment of the infantry units during a critical phase in the nation's history. It serves as a reminder of the sacrifices made by infantrymen to protect the country's sovereignty and uphold its principles of democracy and freedom.
Last Updated Oct 27, 2023, 8:36 AM IST