24th Kargil Vijay Diwas 2023: 25 women are on a 1000 km bike ride from Delhi to Drass
Women of all three services are celebrate Kargil Vijay Diwas. The Nari Sashaktikaran Armed Forces Women Motorcycle Rally, which was flagged off from National War Memorial, will cover 1000 km on bike to reach Kargil War Memorial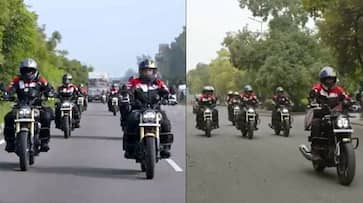 Preparations are underway for the commemoration of the 24th anniversary of 'Operation Vijay' to mark the victory over Pakistan in the Kargil war. To honour this historic day, the 'Nari Sashaktikaran Armed Forces Women Motorcycle Rally' is making its way towards the Kargil War Memorial in Drass. The rally was officially inaugurated on Tuesday at the National War Memorial by Army Chief General Manoj Pandey. General Pandey commended the entire team for embarking on this challenging journey, emphasizing the significant role of women in nation-building.
Comprising a team of 25 members, the motorcycle rally includes two Veer Naris, one of whom is a serving officer. Additionally, there are 10 serving women officers from the Indian Army, along with one woman officer each from the Indian Air Force and the Indian Navy, and 11 other women soldiers.
The all-women team aims to celebrate the decisive victory achieved by the armed forces in the Kargil War and pay tribute to the brave soldiers who made the ultimate sacrifice in service to the nation.
Covering a distance of approximately 1000 kilometres, the rally is set to reach the Kargil War Memorial in Drass on July 25. The journey will take the participants through the plains of Haryana and Punjab, as well as the challenging high mountain passes of Jammu and Kashmir and Ladakh. 
During their visit, the team will engage with NCC cadets, students from various educational institutions, and Veer Naris, offering an opportunity for interaction and exchange. In collaboration with TVS Motor Company, the Indian Army has partnered for this rally, with the participants riding on TVS Ronin motorcycles.
Last Updated Jul 19, 2023, 7:09 PM IST