How doctors treated 85-year-old Rajambal who had a rare cancer
Dr Srimanth B S, consultant for OrthopaedicOnco Surgery at Manipal Hospitals in Old Airport Road, Bengaluru narrates how the senior citizen from Salem, who complained of facing severe pain and swelling in her left knee for 3-4 months, is today leading a normal life.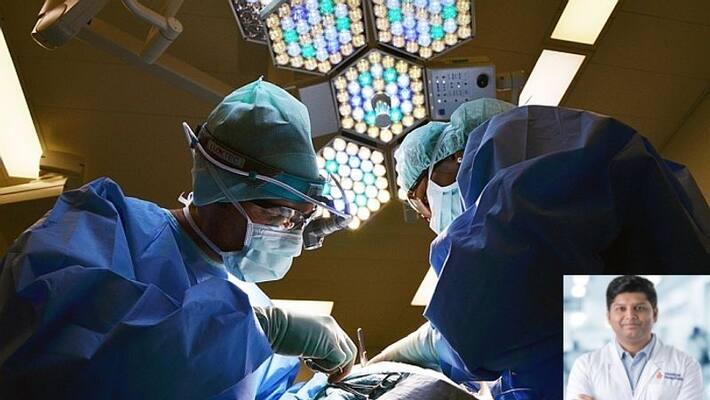 Cancer burden has been rising annually, spread across all age groups. The elderly are the most vulnerable population, either due to primary cancer or comorbid conditions which may preexist.
Manipal Compressive Cancer Centre in Bengaluru regularly encounters elderly (geriatric) individuals with preexisting cancers spreading to the musculoskeletal system (termed Bone Metastases) more frequently than the ones arising primarily from the bones or soft tissue (Primary Bone Tumours/Sarcoma).
Doctors often encounter individuals in emergency or clinic with symptoms of pain associated with swelling, inability to move the joints or even a complex fracture with supposedly minimal trauma (pathological fracture). 
It is important to distinguish fragility fractures secondary to osteoporosis (which is quite common around hip, shoulder, and knee in the elderly) with underlying bone pathology which could have caused the fracture. Hence with a high index of suspicion, doctors perform MRI, PET CT scans and Biopsies to confirm the diagnosis to guide treatment. 
Metastases from the breast, lung, thyroid and prostate commonly affect the skeletal system, whereas blood cancers like Myeloma, Lymphoma etc. are also seen. 
These patients benefit from surgeries to stabilize or replacement procedures to augment the quality of life.
It was a surprise indeed when Rajambal (85) from Salem complained of facing severe pain and swelling in her left knee for 3-4 months. The team were suspecting a cancerous growth or bone metastases at her age, but a series of tests, including a minimally invasive biopsy procedure, indicated a giant cell tumour of the lower part of her thigh bone around her knee region (lower end femur) which was extremely rare at this age. 
This tumour was measuring approximately 6X8 cm in size and had destroyed the crucial weight-bearing zone of the femur bone.
Considering her age, age-related arthritis and extent of bone destruction by the tumour, doctors advised removal of the diseased lower part of the femur and replace it with a Modular Tumor Megaprosthesis. But Rajambal, surprisingly, had minimal osteoarthritic changes around the knee. She consented to Extended Curettage and reconstruction procedure which would help adequately clear the tumour and also retain her native knee joint. 
Her age, diabetes and hypertension also placed her at high risk. With help of our anaesthesia team, endocrinologist, cardiologist and rehabilitation team, the treatment was successful, and she could walk the very next day. Doctors have been consulting the patient for 1-year post-surgery. She is free from a tumour and her quality of life (independently living) has enhanced exponentially.
Last Updated May 13, 2021, 10:58 AM IST