Shah Rukh Khan's 58th birthday: Actor's net worth, income, car collection and more
Explore the opulent world of Shah Rukh Khan, the "King of Bollywood." Discover his staggering net worth, film fees, car collection and luxurious lifestyle.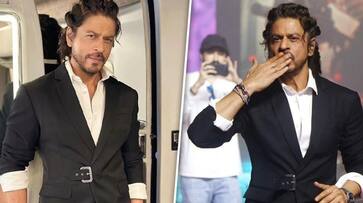 Shah Rukh Khan, affectionately known as SRK or the "King of Bollywood," is an illustrious name in the world of entertainment. His magnetic charm, exceptional talent, and charismatic persona have endeared him to millions of fans globally. Over the years, he has solidified his status as an icon in the Indian film industry, leaving an indelible mark and garnering a devoted following that transcends borders.
Now, let's delve deeper into various aspects of Shah Rukh Khan's financial profile, properties, annual income, film remuneration, brand endorsements, production company, IPL team ownership, opulent car collection, and his exquisitely customized vanity van.
Net Worth
Shah Rukh Khan, or SRK, not only stands as one of the industry's most iconic actors but also as one of the wealthiest. As of the latest reports, his net worth is an impressive 6,300 crore. 
Income
The financial prowess of King Khan is truly remarkable, with an annual income of approximately Rs 280 crore, as reported. This income is derived from multiple sources, including films, brand endorsements, and various business ventures.
SRK film Fees
Being one of the most sought-after actors in the industry, SRK commands a substantial fee for his acting roles. His film fees range between a staggering 100 to 150 crores per project, making him one of the highest-paid actors in the business.
SRK brand endorsement fees
Shah Rukh Khan's charismatic appeal and immense popularity have made him a highly sought-after figure for brand endorsements. He charges substantial fees, ranging from Rs. 4 to Rs. 10 crore for each endorsement deal, further bolstering his already impressive fortune.
SRK's production company
Red Chillies Entertainment, the production company owned by Shah Rukh Khan, has played a pivotal role in producing successful films. This venture contributes significantly to SRK's financial success, with an annual income of 500 crores.
SRK's IPL team
In addition to his contributions to the silver screen, SRK also serves as a co-owner of the IPL team Kolkata Knight Riders, which boasts a staggering valuation of 9,017 crore, a testament to his entrepreneurial acumen.
SRK car collection
Shah Rukh Khan's penchant for luxury extends to his remarkable car collection, which is reportedly valued at 31 crore. This collection includes prestigious vehicles such as the awe-inspiring Bugatti Veyron, the elegant Bentley Continental GT, and the stately Rolls Royce Phantom Coupe. He also owns a custom-designed vanity van, worth Rs. 4 crore, which serves as a mobile oasis, ensuring his comfort and convenience during film shoots.

Shah Rukh Khan's journey from humble beginnings to becoming one of Bollywood's most iconic figures has not only earned him adoration but also tremendous wealth. With opulent properties, substantial earnings, and successful business ventures, SRK truly leads a life befitting a king.
Last Updated Nov 2, 2023, 7:45 AM IST