Renowned Malayalam director Siddique passes away
Renowned Malayalam director Siddique passed away on Tuesday (Aug 8) in Kochi. Siddique was a part of Cochin Kalabhavan and Harishree, two of Kochi's top mimicry troupes, and has been involved in the professional mimicry scene.
Renowned Malayalam director Siddique passed away on Tuesday (Aug 8) at around 9 pm after suffering a cardiac arrest at a private hospital in Kochi. He developed pneumonia and was receiving treatment for liver problems. His cardiac arrest resulted in a worsening of his health. According to hospital officials, he was put on ventilator support in the intensive care unit. He was 63.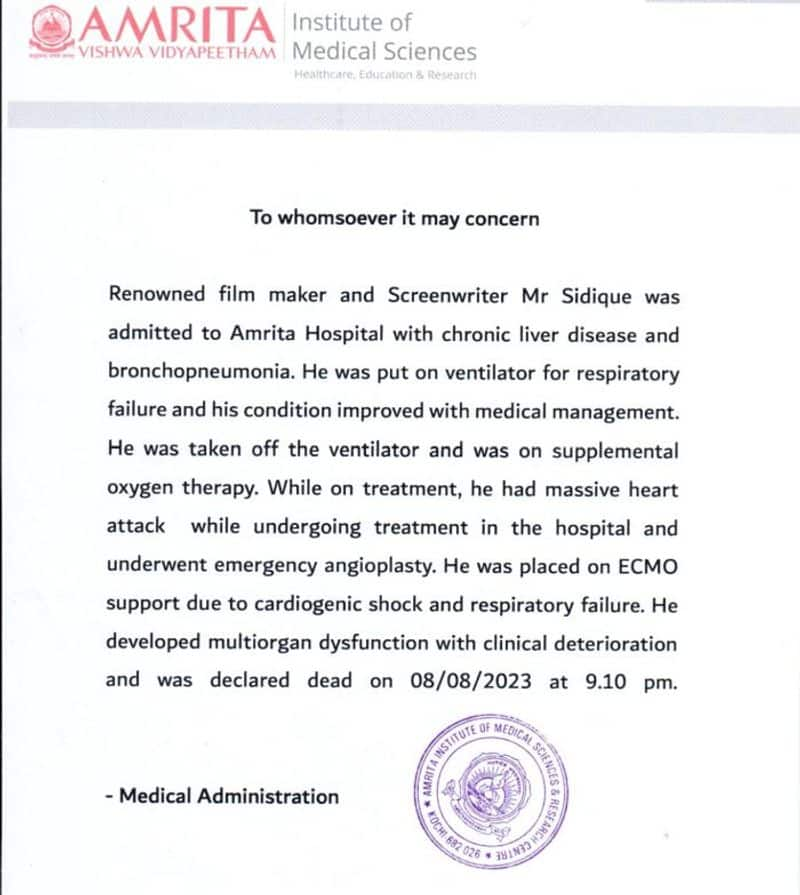 A public viewing has been arranged tomorrow (Aug 9) from 9.00 am to 11.30 am at Kadavanthra Rajiv Gandhi Indoor Stadium and then at his residence near Kakkanad. The final rites will be held with official honours at Juma Masjid in Ernakulam Central at 6:00 pm. 
In 1989, 'Ramji Rao Speaking', marked Siddique Ismail's debut as a filmmaker. He made his screenwriting debut in the 1986 Malayalam film Pappan Priyappetta Pappan. Big Brother was his most recent movie to hit the screens.
He started off as Fazil's assistant director. Fazil noticed Siddique and Lal when he watched them on stage with the Cochin Kalabhavan company. Later, Siddique and Lal worked together to produce a number of films under the name Siddique-Lal. Siddique himself remade his Malayalam flick Bodyguard into Tamil as Kaavalan. He also remade the movie as Bodyguard in Hindi. He co-directed the film with actor Lal, whose partnership was a major hit in the film industry and produced blockbusters, including "In Harihar Nagar" (1990), "Godfather" (1991), "Vietnam Colony" (1992), and "Kabooliwala" (1994).
Since the pair split up, Siddique continued his directing endeavours while Lal has focused on acting and producing. 
"Pappan Priyappetta Pappan", "Bhaskar Oru Rascal," "Chronic Bachelor," "Mannar Mathai Speaking," "Hitler," "King Liar," "Ayal Kadha Ezhuthukayanu," "Fukri," and "Big Brother" are some of his well-known works. He won the Kerala State Film Awards in 1991. 
Siddique is survived by his wife Sajitha and three daughters -- Saumya, Sara, and Sukoon.
Chief Minister Pinarayi Vijayan has expressed his grief over the passing away of director Siddique. 
Last Updated Aug 8, 2023, 11:23 PM IST