Nithya Menen reacts to news that she accused Tamil actor of harassing her on sets, says 'It's Very Sad That...
Malayalam actress Nithya Menen took to her Instagram account to slam the false reports. The actress urged those who amplified the false news to 'be better.'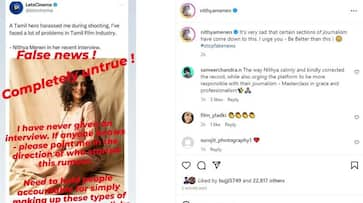 Nithya Menen has finally responded to reports that she accused a 'Tamil hero' of abusing her while filming a movie. On Tuesday, allegations surfaced stating that Nithya had spoken out against harassment in the Tamil film business.
 "I have never faced any problems in Telugu industry but I have faced a lot of problems in Tamil industry. A Tamil hero harassed me while shooting for a film (sic)," her alleged statement read. It was quickly shown that the assertion was untrue. The actress has now resorted to Instagram to denounce the bogus rumours. She advised individuals who spread misleading information to 'be better.'
Sharing screenshots of accounts on X (Twitter) that spread the false claims, the star said, "False news! Completely untrue! I have never given an interview. If anyone knows, please point me in the direction of who started this rumour. Need to hold people accountable for simply making up these types of false news just to get clicks (sic)." She added, "It's very sad that certain sections of journalism have come down to this. I urge you – Be Better than this ! #stopfakenews."
In a follow-up post, Nithya said she found the social media user who started the false claim and wrote, "We are all here for such a short period of time . It always surprises me how much wrong we do to each other 🙂 I point this out today because only accountability stops bad behaviour. Be better humans thebuzzbasket ursbuzzbasket letscinema and all the others who have followed this bandwagon. #stopfakenews."
On the work front, Nithya will be seen in D50. Dhanush directs the film. He also stars in the film. Sun Pictures produces D50 and it also stars S. J. Suryah, Sundeep Kishan, and Kalidas Jayaram.
Last Updated Sep 27, 2023, 8:21 AM IST