Martin Luther King review: Is Sampoornesh Babu's film, remake of Tamil film Mandela, worth watching? Read this
Martin Luther King Twitter Review: Telugu actor Sampoornesh Babu's film is in the theatres today. The movie is an official remake of the 2021 Tamil film Mandela, featuring Yogi Babu.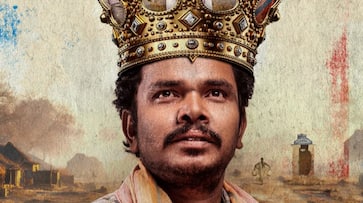 Martin Luther King, the next comedy-drama starring Sampoornesh Babu, will be released on October 27 in both Tamil and Telugu. The film is an official remake of the Tamil Mandela, released in 2021 and starred by Yogi Babu. With this film, Puja Kolluru makes her directorial debut.
Storyline:
Smile, a happy-go-lucky orphan guy, lives in the little backward town of Markapur since he was never named. He survives on the kindness of the locals. When election preparations begin, two rival leaders try to appease Smile, who receives a voter card and is critical to their victory. The film's central question is "What happens next?"
Martin Luther King Twitter review:

Sampoornesh Babu has his own fan base. The actor is well-known for his mock comic flicks, but he often receives real praise. When Martin Luther King visited theatres, a group of 'Burning Star' watchers and fans who saw the film ahead of the others offered their thoughts on the film via tweets on the micro-blogging site. Check out some of them down below.
Martin Luther King's cast and crew
The movie stars Sampoornesh Babu as Smile aka Martin Luther King. VK Naresh, Sharanya Pradeep, and Venkatesh Maha, among others, played key roles. The remake, Martin Luther King, was directed by Puja Kolluru in her debut after being written by Madonne Ashwin. The project was co-funded by S Sashikanth, Chakravarthy, Ramachandra, and Venkatesh Maha under the umbrellas of YNOT Studios, Reliance Entertainment, and Mahayana Motion Pictures. Venkatesh Maha created the script and lines for the film.
Deepak Yaragera operated the camera, and Puja Kolluru edited the film herself. Martin Luther King's whole background score and music was created by Smaran Sai.
Last Updated Oct 27, 2023, 10:17 AM IST