Malaika Arora throws back to beach spin in bikini, helps fans look forward to future
A throwback video of Malaika Arora's beach spin in a bikini reminded us that that the Bollywood diva knows how to leave the past behind and enjoy the present in the hope for a better future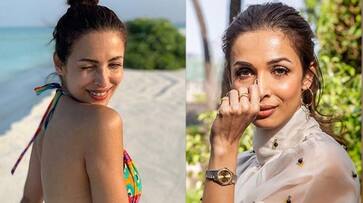 A beach spin with actress Malaika Arora in a white bikini can melt a snow-laden mountain. This throwback video of the actress shared by her during the lockdown raises the temperature no doubt but also sends a comforting message.
The 46-year-old model turned actress has been living in isolation with son Arhaan Khan and pet dog Casper following the lockdown imposed due to novel coronavirus.
After sharing the video on Instagram, the actress wrote, "Spinning in the sun, dragging my feet only to comeback where I started from. The world too will boomerang from this 'out of control spin' and the sun of hope and happiness will shine on all of us again. #anewdawn #anewday #stayhomestaysafe."
The actress can be seen in a two-piece white bikini by the beach as the waves hit the shore and the sun shines upon her.
The video has been viewed over 710550 times so far. But we're sure the like by Arjun Kapoor matters more to her.
The actress was on vacation  at the beginning of the year to bring in 2020, most probably to get away from the humdrum and move forward with positivity, and positivity she has, as is evident from her caption for her recent post.
Last Updated May 19, 2020, 6:21 PM IST