Jyothika's bold speech hurting Hindu sentiments? Social media stands divided
Tamil actress Jyothika's recent speech landed her in trouble, and now nertizens want her to apologise, for the same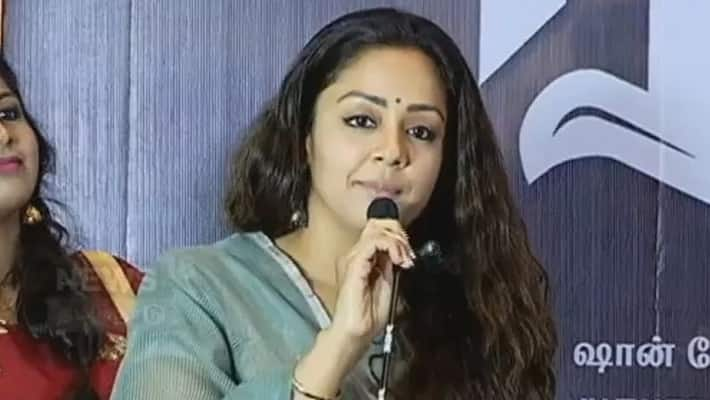 South Indian actress Jyothika's remarks about Thanjavur temple at a recent award function is now grabbing the headlines. 
At the event, Jyothika said, "One wonders why such a huge amount was spent on Lord Brahadeeswara Temple in Thanjavur." 
Going further, she urged people not to offer money as offerings to hundis kept across temples and rather use it for charity works like building schools and hospitals.
Jyothika shared an experience from when she was shooting for the film Raatchasi. The actress shared that she visited a very famous temple in Thanjavur during the shooting. It was like a palace. The next day, she was shooting for a scene in a hospital, which was very badly maintained and felt bad about it. 
Therefore, Jyothika requested her fans to donate money for hospitals and schools the same way we donate to temples. She said that hospitals are more important for people to survive.
The video of Jyothika's speech from the event is now shared on various social media platforms, which now looks relevant in today's times with the pandemic of coronavirus spreading across India.
However, many didn't like her statements and have hurt Hindu sentiments. Speaking to News Today, Kannan, a retired government employee, said, "I was watching the show in a TV channel last weekend. Jyothika's remarks did shock me. They showed clearly that she knew nothing about Tamil culture and our tradition. High time she learns it." 
Tamilkumaran, a scholar, said, "Born and brought up outside Tamil Nadu, she has no clue about the temple. It is our pride. High time she learns about them from her father-in-law and a good orator Sivakumar."
Kannan also talked about hundis and what the purpose is all about, "Money offered to hundis actually helps feed many hungry people. It is sad that Jyothika had spoken without knowing anything. She speaks about charity. Will she or her husband do movies without taking money or allow people to watch their movies in cinema halls free of cost? Such comments hurting sentiments of people belonging to one particular community are very harmful."
On the other hand, a few support Jyothika's thoughts. One fan tweeted, "It's really bold for a heroine 2 say what she said, even some big heros dt approch these topics. Instead of spreading hate in the name of religion, degrading women & doing politics out of it! Better improv d hospitals & school instead of fighting for a religion! #jyothika #jyotika (SIC)."
Another said, "Temple's Are Maintained Like Palace. But I Couldn't Tell How Bad Hospital Was , During The Shoot Of My Film. As We Told In Film #Ratchasi Just Like We Donate To Temple We Must Donate To Schools & Hospitals - #Jyothika."
Now, after reading both the sides you decide, is Jyothika right or wrong?
Last Updated Apr 23, 2020, 6:42 PM IST