Independence Day 2023: 15 songs for your I-day playlist
Independence Day 2023: Here's a list of 15 songs that will make you feel the fervour of Azadi. Wishing all our readers a Happy Independence Day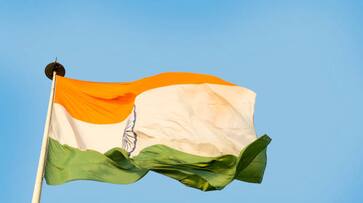 India's Independence Day, celebrated on the 15th of August, stands as a testament to the nation's unyielding spirit and the sacrifices that paved the path to freedom in 1947. This significant occasion is marked by vibrant celebrations, reflecting the unity and pride of the Indian populace. An integral part of these celebrations is the power of music, with Hindi patriotic songs serving as an emotional bridge that connects citizens with their history, culture, and shared aspirations. As the nation gears up to commemorate its 77th Independence Day on 15 August 2023, here's a curated list of 15 timeless Hindi patriotic songs that evoke feelings of nationalism and gratitude for the land that's enriched by the sacrifices of its heroes.
1. Ae Mere Watan Ke Logon by Lata Mangeshkar
A poignant homage to the martyrs who selflessly gave their lives for the nation, "Ae Mere Watan Ke Logon" remains etched in the hearts of Indians. Lata Mangeshkar's soulful rendition encapsulates the fervor and sacrifices of those who fought for independence, igniting a sense of respect and pride.
//
2. Sandese Aate Hai Hamein Tadpaate Hain
A resonant track from the movie "Border," this song embodies the emotions of soldiers stationed away from home. Through poignant lyrics, it captures their longing for their homeland and the sacrifices they make to ensure the nation's security.
3. Aisa Des Hai Mera from Veer Zaara
"Aisa Des Hai Mera" celebrates the harmonious coexistence of diverse cultures within India. It emphasizes the emotional attachment citizens have towards their nation and fosters a sense of unity and pride.
4. Des Rangila Rangila Des Mera Rangila from Fanaa 
This spirited song not only exudes energy but also reflects the vibrant and dynamic nature of India. It kindles a sense of patriotism and encourages celebration of the nation's colors.
5. Suno Gaur Se Duniya Walo
A rallying cry for unity and patriotism, this song calls upon the world to witness India's pride. Sung by various artists, it encourages citizens to stand together, displaying love and respect for their nation.
6. Maa Tujhe Salaam by A. R. Rahman
A. R. Rahman's heartfelt composition pays tribute to India as a nurturing motherland. It embodies the gratitude citizens feel for their homeland, invoking deep emotions of love and respect.
7. Yeh Jo Des Hai Tera from Swades
This soul-stirring melody resonates with expatriates, sparking a connection to their roots. It underscores the importance of contributing to the country's development, regardless of geographical boundaries.
8. Nanha Munna Rahi Hoon
A timeless classic, this song symbolizes the innocence and unity that defines India. It mirrors the aspirations of young minds, brimming with dreams of a brighter, united nation.
9. Mere Desh Ki Dharti from Upkar
A heartfelt ode to India's soil and traditions, this song embodies a deep-rooted love for the nation's cultural heritage. It echoes a sense of belonging and reverence for the land.
10. Vande Mataram
"Vande Mataram," the quintessential national song, embodies the nation's resilience and indomitable spirit. It stands as a tribute to the freedom fighters' unwavering dedication and the magnificence of the motherland.
11. Mera Rang De Basanti from The Legend of Bhagat Singh
This song pays homage to the courage and sacrifice of Bhagat Singh and his companions. It serves as a reminder of their unwavering commitment to freedom.
12. Ae Watan Watan Mere Aabad Rahe Tu from Raazi
With its enchanting lyrics, this song encapsulates emotions of patriotism, unity, and unwavering devotion to the nation.
13. Kar Chale Hum Fida Jano Tan Sathiyon
A poignant tribute to the fallen soldiers who laid down their lives for the country's safety, this song is a salute to their selflessness and bravery.
14. Vande Mataram by Lata Mangeshkar
Lata Mangeshkar's rendition of the national song is a timeless anthem that reverberates with the sacrifice and valor of those who fought for freedom.
15. Ai Vatan Ai Vatan Hamko Teri Kasam from Shaheed 
A moving song that encapsulates the fervor of the freedom struggle, inspiring citizens to uphold the nation's values and progress.
Last Updated Aug 14, 2023, 2:50 PM IST