Bradley Cooper, Gigi Hadid dating rumors heat up as they go on theatre date - Read details
Are Bradley Cooper and Gigi Hadid more than friends? The buzz intensifies as they enjoy a theatre date together. Get the latest on their rumored romance.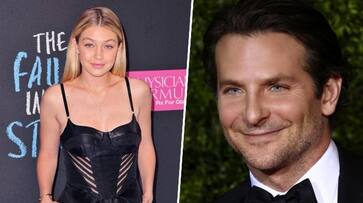 Bradley Cooper, who is 48 years old, and Gigi Hadid, who is 28, created some buzz last month, on October 5, when they were seen together outside an Italian restaurant in New York City. Adding to the speculation, they were photographed attending a play on November 1 this month, as reported by Page Six. People speculated that they might be on a date, and they were seen going to the Lucille Lortel Theatre to watch a play called "Danny and the Deep Blue Sea," which stars Aubrey Plaza and Chris Abbott. It's worth noting that Bradley Cooper is a big fan of theater, as evident from his work in the film "Maestro" about Leonard Bernstein.
Sources mentioned that Gigi Hadid was wearing a Yankees cap and carrying a Birkin bag, while Bradley Cooper was dressed in a simple black t-shirt. While it hasn't been officially confirmed, these sources also mentioned that the two left the theater while holding hands. 
As per report from Glamour, Gigi Hadid and Bradley Cooper took a romantic getaway to Rhode Island at Taylor Swift's coastal home. Apparently, they wanted to spend time together away from the constant attention of photographers and reporters, and Gigi chose Taylor Swift's place because she's a close friend.
The Messenger reported that it was Irina Shayk, Bradley Cooper's former partner and a supermodel, who introduced Bradley to Gigi Hadid. It seems that Irina and Gigi are friends through their work in the industry. The source mentioned, "Gigi was introduced to Bradley through Irina and their mutual friends in the industry. Gigi and Irina have been close over the years while working together, and Gigi and Bradley have hung out before, but it has always been friendly in social settings. Gigi and Bradley were in touch recently and were bonding over their daughters when Bradley asked her out."
Just to give you some background, Gigi Hadid has a daughter named Khai Hadid Malik with her former partner, singer Zayn Malik. Bradley Cooper has a daughter named Lea De Seine with Irina Shayk.
ALSO READ: Bigg Boss 17: Fan-favourite stars Elvish Yadav, Manisha Rani to make appearance on Weekend Ka Waar
Last Updated Nov 2, 2023, 7:33 PM IST