A Haunting in Venice: Netflix or Disney Plus? When and where to watch Agatha Christie's 'Halloween Party'
'A Haunting in Venice' is finally out in theatres near you: Find out how, when and where to watch the latest sequel of Death on the Nile, A Haunting in Venice online.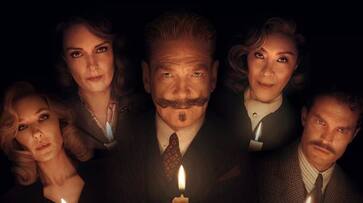 Whodunit queen Agatha Christie is the best-selling fiction novelist ever. Numerous adaptations of her books have inspired detective films that followed her. Knives Out and Bad Times at the El Royale are Christie-inspired whodunits. Fans of these flicks enjoy a theatrical guessing game with only twists. Murder on the Orient Express and Death on the Nile were hits, so a third Hercule Poirot picture is great news for late next year.
Murder mysteries are being revived in cinema and TV. The reimagined film adaptation of Agatha Christie's Murder on the Orient Express by Kenneth Branagh was one of the first in this phase. The film, which Branagh directed and starred in as Hercule Poirot, was a hit and inaugurated a new Christie-inspired film series. A Haunting in Venice, the third instalment in this famous series, is coming out soon after Death on the Nile.
This new film, based on Christie's 1969 novel Hallowe'en Party, follows retired detective Hercule Poirot as he investigates a murder at an uncanny séance. Branagh will return as the protagonist with Michelle Yeoh, Tina Fey, and Jaime Dornan, all-season newbies. To enhance the spooky backdrop, the cast has promised a disturbing study of otherworldly aspects to heighten the mystery's stakes.
A Haunting in Venice, based on Agatha Christie's Hallowe'en Party, has Kenneth Branagh as Hercule Poirot again. Branagh directs and stars for the third time. Though reviewers gave each film mixed reviews, they both made millions over their production budget and were well-received. Pictures are vibrant, action-packed, and always have a great cast. Hercule Poirot must use his hawk-eye investigative talents again in A Haunting in Venice's dark realm.
If you're ready to investigate this new scary case, read on to find out when and where to watch A Haunting in Venice.
A Haunting in Venice opens on September 15, 2023, just before Halloween. This Halloween, the film began filming in Venice, Italy, and Pinewood Studios in London, England, likely creating a gloomy mood. Given its Halloween setting, it's an excellent addition to next year's autumn roster. Other scary films this autumn include The Nun 2 and a new Exorcist. A Haunting in Venice will open in select US theatres on September 9, 2023, before its broader release. Learn about early screenings here.

Nowadays, anticipating a film's digital release/streaming date is difficult because every studio follows their own way. Recently, Asteroid City was released online for streaming two and a half weeks after its theatrical release. A Haunting in Venice will not be streamed yet, so stay tuned. Theatres are preferable for now.
Michael Green wrote and Kenneth Branagh directed A Haunting in Venice, based on Christie's 1969 novel Hallowe'en Party.
The cast includes:
Kenneth Branagh as Hercule Poirot
Kyle Allen as Maxime Gerard
Camille Cottin as Olga Seminoff
Jamie Dornan as Dr. Leslie Ferrier
Tina Fey as Ariadne Oliver
Jude Hill as Leopold Ferrier
Ali Khan as Nicholas Holland
Emma Laird as Desdemona Holland
Kelly Reilly as Rowena Drake
Riccardo Scamarcio as Vitale Portfoglio
Michelle Yeoh as Joyce Reynolds
What Is 'A Haunting in Venice' About?
The official synopsis from 20th Century Studios reads:
"A Haunting in Venice" is a horrific mystery starring the return of the famed investigator, Hercule Poirot, set in spooky, post-World War II Venice on All Hallows' Eve. Poirot, now retired and exiled in the world's most fashionable metropolis, unwillingly attends a séance at a decrepit, haunted palace. When one of the visitors is murdered, the investigator is plunged into a dark world of shadows and secrets.
Last Updated Sep 15, 2023, 12:18 PM IST