EXCLUSIVE: 'BJP's image has changed completely in Kerala after I joined'
Over the last 67 years, Dr Elattuvalapil Sreedharan has been instrumental in reshaping India's infrastructure. Now, at 88, he is ready to take up another challenge -- turning around the fortunes of his state, Kerala.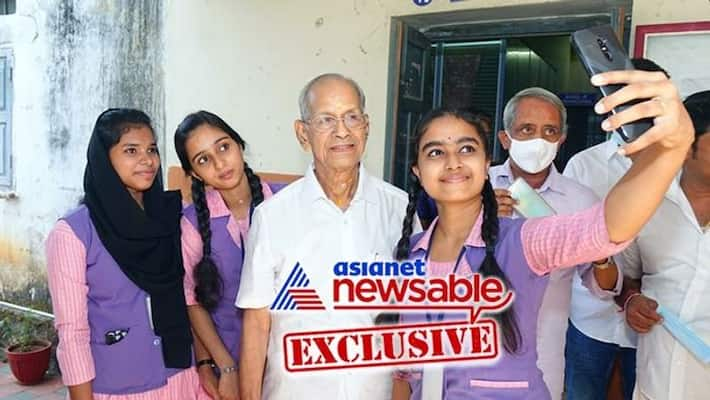 Over the last 67 years, Dr Elattuvalapil Sreedharan has been instrumental in reshaping India's infrastructure. Now, at 88, he is ready to take up another challenge -- turning around the fortunes of his state, Kerala.
'Metroman' Sreedharan, as he is popularly known, spoke exclusively to Asianet Newsable's Yacoob.
Let's start with the party you joined. Why BJP and not any other party or grouping?
Kerala has been ruled by the Left Democratic Front and the United Democratic Front alternatively for the last 65 years. During this period, what has happened is hardly any tangible improvement has come to Kerala. 
Today, while the other states around Kerala like Tamil Nadu, Karnataka, and Andhra Pradesh are all fast progressing, Kerala is still behind in several matters, particularly regarding self-sufficiency. We have to depend upon other states for all food items, energy, for even labour. 
No industry has come to Kerala for the last 20 years. There are no employment opportunities, and our people, after education, has to go outside Kerala to Mumbai, Bengaluru or Dubai etc for jobs. But from the outside, Kerala looks fine. All human indices look very nice because of the large amount of money that used to come from outside into Kerala manages the economy. 
So seeing the condition, I felt something should be done to improve the state of affairs, bring in essential development works, and industries to Kerala. That's why after 67 years of working with the government, I felt this is the right time for me to enter into politics. By seeing the other two parties not able to rule the state properly -- so many corruption cases, so many scandals -- the only promising party is the BJP. So I joined.
What inspired to contest the assembly election?
As I have been working with the government for the last 67 years and I have many opportunities to take up many many important projects for the country. I thought the experience I have gained over the last 67 years and the expertise that I have gained should be meaningful for my state. That's why I joined politics.
The BJP though gaining ground in Kerala, is far from being accepted as a serious contender to the LDF and the UDF?
Every new party will be like this the same way. The BJP was not there much in Kerala earlier. But it is steadily improving, which was shown in the last two elections. The percentage of the votes is something like 17.5 per cent and will increase by another 10 or 15 per cent; it can come into force here.
How do you define politics?
I think politics in India is something people are entering for.... as a career; many of the people I find. Hardly anybody joins politics to work for the country, for the sake of the country.
You are seen as somebody who is a go-getter. What is your vision for Kerala?
We want investment to come into Kerala. Industries to come in. We want to ensure basic infrastructure to be brought in. We want the education level to be increased. In short, we want governance that is not blackened by corruption charges and then party allegiance, these sort of things. We want a government that will bring good work culture to the governance, which will see the people's interest; that is what I wanted.
What are your thoughts on the Citizenship Amendment Act? Are your thoughts aligned with that of the party?
Yes! I am fully aligned with the policies of the present government of India.
Sabarimala is a key election campaign. The UDF and the BJP have slammed the LDF government for playing with devotees faith and interests. What is your take on the subject? 
See, the LDF government was in charge at that time. They trampled over the believes and the sentiments of the pilgrims. They wanted to attack the Hindu culture. They deliberately got... police caught a lady, one of them was a Muslim. Muslims are not disallowed in Sabarimala, but why ladies? Just to trample on the feelings, the culture, tradition and sentiments of the pilgrims.
What are the key issues that you are reaching out to the people with?
I am actually reaching out to people for development. I want basic development to be brought in totally. I want to create an environment by which investment will come from outside. Keralites are prepared to come and invest if there is a congenial atmosphere and good encouragement. I want to bring these things first.
In a recent interview, you were quoted as saying that the BJP would emerge as a kingmaker in the state in this election. What is the rationale behind that claim?
Yes, with my joining BJP, I find the image of the BJP has completely changed. I find there is a landslide show of mood toward BJP. With that, they will be able, I think, about 40 to 75 seats. If they get more than 70 seats, they can make the government by themselves. Otherwise, they will be the kingmakers, and they will decide which party will rule the state.
What is the sentiment you are getting from the ground in Palakkad?
Palakkad people are very excited. They are delighted, and of course, many of them are attracted to me because of my image and my stature in the country and not in the state alone. So I am very sure I will win my seat without any difficulty.
You are 88. At your age, many would consider spending life in retirement. What motivates you to keep going?
My eagerness to serve my state further with the experience that I have, with the knowledge that I have, the expertise that I have. What is the use of sitting at home? I must be able to serve my people and my state.
Election campaigning can get hectic. How do you unwind at the end of the day?
My style of electioneering is different. I don't do it the way normal politicians do. I don't go from house to house asking for votes. I don't go from shop to shop asking for votes. I am reaching the people directly in groups, talking to them, and making them understand why there should be a change in the government and why BJP should be voted to power. I am meeting intellectuals separately and appealing to them to draft a letter and give it to every voter. That is my style of electioneering, which I find is not very difficult. It doesn't cause much strain for me. The BJP has got a very excellent network of people to work for me. So it is not difficult at all.
Finally, assuming BJP wins on May 2, will you be the chief minister?
That is for the party to decide. BJP is a democratic party. So they will decide at that stage. They have not given me any promise, and I have never asked for any guarantee whatsoever.
Last Updated Mar 28, 2021, 10:28 AM IST