Bengaluru: MDMA pills worth Rs 1 crore found in foot massager at airport
The Customs department has seized MDMA/ecstasy pills worth Rs 1 crore at the Kempegowda International Airport in Bengaluru. The pills were found inside a foot massager exported from Belgium.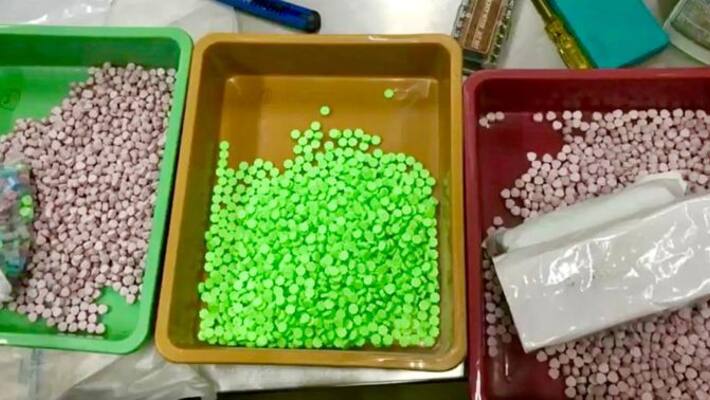 Bengaluru: MDMA pills or commonly known as ecstasy pills worth Rs 1 crore were found hidden in a foot massage machine by Customs officials at the Kempegowda International Airport on Tuesday evening.
Customs officers in the cargo section found the pills well stacked inside the foot massager.
Bengaluru Customs department officials told the media that drugs were found inside a package sent from Belgium.
One of the customs officers said "Officers at the Bengaluru International Courier Centre detected 1980 grams of MDMA (Methylenedioxymethamphetamine)/ecstasy pills concealed inside an electric foot massager. The drugs are estimated to be worth around Rs 1 crore".
The package, which arrived at the Karnataka International Airport Cargo section, aroused scepticism as the foot massage machine inside looked like it was broken down and then vaguely fixed.
Alert officers immediately scanned the foot massager with a high-end device, and colourful spots were discovered inside the machine.
Also read: Karnataka: COVID-19 test mandatory for attending Assembly session
It is reported that officers who opened the foot massage machine found pills in violet and green colours, stuck with brown tape.
An officer from the customs department told a news portal "An investigation is now underway. We are now trying to retrieve more information to identify the receiver of the parcel."  
Last Updated Sep 9, 2020, 4:44 PM IST