ODI World Cup 2023: Mickey Arthur addresses Pakistan's setback and Babar Azam's learning curve
Pakistan's World Cup 2023 journey faces scrutiny as Team Director Mickey Arthur discusses the consequences of their setback and offers insights into captain Babar Azam's learning curve.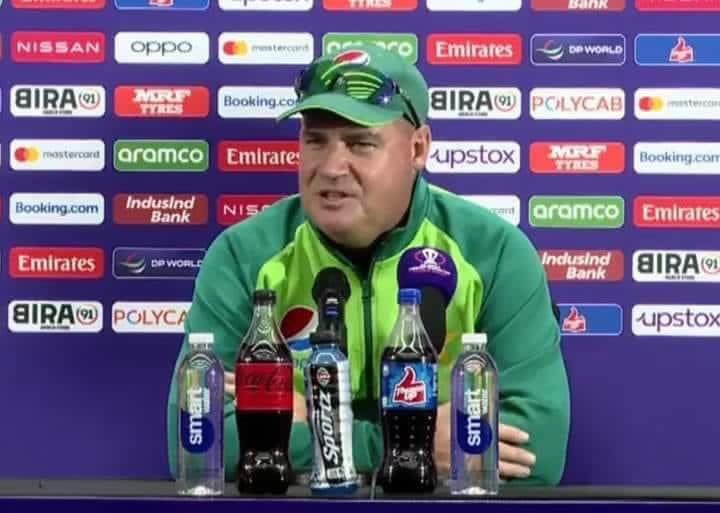 Babar Azam faced criticism primarily for his lack of aggression and decision-making on the field as Pakistan failed to qualify for the World Cup semi-finals. The team's captaincy and playing style, described as "very 80s" by former skipper Ramiz Raja, came under scrutiny. Coach Mickey Arthur acknowledged that Babar Azam is on a learning curve in international cricket and needs guidance. Despite facing criticism, Arthur expressed support for Babar, emphasizsng the need to allow him to make mistakes and learn from them.
Arthur highlighted the importance of shutting out external criticism and focusing on creating a stable environment for the team. He mentioned the absence of fast bowler Naseem Shah, due to a shoulder injury, as a factor that upset the team's bowling equilibrium. Arthur acknowledged that Pakistan's performance was not consistent enough and called for the team to reach a higher level, becoming a 330-350 run team. When asked about potential consequences, Arthur expressed readiness to return to Derbyshire, emphasising his commitment to providing stability and structure to Pakistani cricket.
"Our bowling equilibrium was out of kilter because Naseem Shah provides the consistency, whereas it allows Shaheen Shah to attack, and then you can attack with your leg spinner and you attack with Harris Rauf.
"So, the equilibrium was upset but that is no excuse at all because quite frankly we haven't played well enough. We haven't bowled well enough at times.
"We haven't batted well enough at times. We haven't been as consistent as we have to be in order for us to progress to a semi-final and a final. And that is the fact of it," he said.
"I don't think we played our best game here. I think I really believe the best four teams in the competition are now playing the semifinal. I think what we've seen is that, and it's something that we've continually tried to push is that we're behind the eight ball.
"Batting-wise, we have to become a 330-350 team. Our game needs to go to another level. The teams that are doing that and doing that consistently are the teams that are in the semi-final. And I don't think we've done that consistently enough. We do that when Fakhar Zaman comes off and we can't just be relying on one-on-one player," he said.
Last Updated Nov 12, 2023, 2:22 PM IST