ODI World Cup 2023: Conway and Ravindra's heroics power New Zealand to crushing 9-wicket victory over England
In a spectacular start to the ICC ODI World Cup 2023, New Zealand displayed their dominance by securing a commanding 9-wicket victory over England in the tournament's opening match, held in Ahmadabad.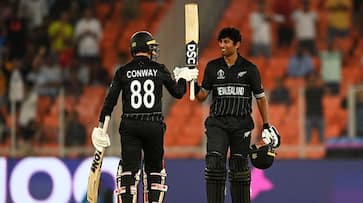 In the thrilling opening match of the ICC ODI World Cup 2023, New Zealand showcased their dominance by defeating England with a resounding 9-wicket victory. The encounter, which took place in the tournament's inaugural game, was an exhilarating display of cricketing prowess in Ahmadabad. England, the host nation, found themselves on the back foot as New Zealand's bowlers put on a stellar performance, restricting England to a modest total. New Zealand's disciplined bowling attack, led by their talented pacers, left the English batsmen struggling to build partnerships and post a competitive score.
In response, New Zealand's top-order batsmen showed remarkable composure and skill as they chased down the target with ease. Their well-orchestrated innings was a testament to their preparation and determination. This convincing victory by New Zealand in the tournament opener not only boosted their confidence but also sent a strong message to their competitors. It set the tone for what promises to be an exciting ICC ODI World Cup, with New Zealand emerging as early contenders for the coveted title.
Last Updated Oct 5, 2023, 8:56 PM IST