ODI World Cup 2023: Australia's Pat Cummins reveals strategy for final against India
Australia's captain, Pat Cummins, discloses the plan to hush the roaring crowd as Australia gears up to face India in the World Cup final. With a formidable opponent and a passionate Indian fanbase, Cummins emphasizes the need to embrace the challenge.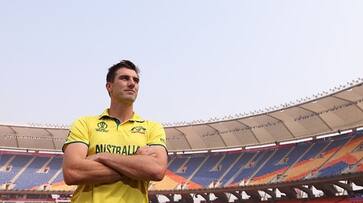 It remained unclear whether Australia captain Pat Cummins was perusing 'How to silence a large, partisan crowd' on his phone as he entered the press conference room. However, he openly admitted that quieting the enthusiastic crowd was essentially the strategy for the World Cup final against India.
In addition to facing India's formidable batting and bowling prowess, Australia anticipates dealing with fervent Indian fans cheering on Rohit Sharma and his team in the final at the Narendra Modi Stadium, expected to be at full capacity with 130,000 spectators.
Cummins acknowledged the challenge but emphasized the importance of embracing it. "The crowd's obviously going to be very one-sided, but in sport, there's nothing more satisfying than hearing a big crowd go silent, and that's the aim for us tomorrow," he stated.
Australia, initially defeated by India in their opening match, rebounded with eight consecutive victories to secure a spot in the final against the unbeaten Indian side. Cummins expressed confidence in their ability to challenge India, stating, "We know it's going to be a packed house. There's going to be 130,000 fans here supporting India. So it's going to be awesome."
The key to Australia's success, according to Cummins, lies in the performance of their new ball pair, Mitchell Starc and Josh Hazlewood, particularly against India's top order. Cummins highlighted their experience in ICC finals and the impact they can have on the game.
While acknowledging that Australia has yet to deliver a "complete game" in the tournament, Cummins expressed confidence in their ability to challenge any team. As they approach the summit clash, he hoped that they have preserved their best performance for the final.
Also Read: UP Govt to build mini stadium, open gym in ODI World Cup 2023 hero Mohammed Shami's village
Last Updated Nov 18, 2023, 1:07 PM IST