Why is India still recommending Ivermectin for Covid treatment?
World Health Organisation, European Medicines Agency and the US Food and Drug Administration do not endorse the use of Ivermectin for Covid treatment. What's more, even Merck -- the company that manufactures Ivermectin -- has said that the medicine is not meant for Covid-19 treatment.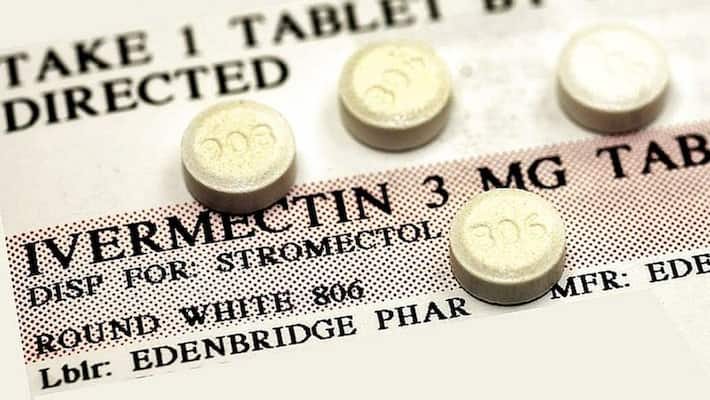 Several Indian states have recommended the use of Ivermectin for Covid-19 treatment. Goa government earlier this week announced that all people above 18 years in the state would be given Ivermectin irrespective of their coronavirus condition to bring down mortality. 
Citing multi-national expert panels, Goa Health Minister Vishwajit Rane said, "The Ivermectin 12 mg tablet will be made available in all the health centres for people to collect and start treatment immediately, irrespective of any symptoms or anything."
But here is the catch. The common anti-parasitic Ivermectin, which is being touted as a miracle cure for Covid-19 by doctors and campaigners the world over, is often used in the United States to treat or prevent parasites in animals.
Merck -- the company that manufactures Ivermectin -- has stated that there is no basis for using it as a treatment for COVID-19. In a statement, the company said the analysis showed no meaningful evidence for clinical activity or clinical efficacy in patients with COVID-19 disease.
FDA advisory on Ivermectin
The US Food and Drug Administration, as of May 5, clearly states that Ivermectin is not an anti-viral drug.
In a statement, the FDA said that it had received multiple reports of "patients who have required medical support and been hospitalised after self-medicating with ivermectin intended for horses."
* The FDA has not reviewed data to support the use of Ivermectin in Covid-19 patients to treat or to prevent Covid-19.
* The levels of Ivermectin for approved uses can interact with other medications, like blood-thinners. An overdose on Ivermectin can cause nausea, vomiting, diarrhoea, hypotension (low blood pressure), allergic reactions (itching and hives), dizziness, ataxia (problems with balance), seizures, coma and even death. 
What the WHO says about Ivermectin
The World Health Organisation has recommended against the use of Ivermectin in patients with Covid-19 except in the context of a clinical trial.
According to the World Health Organisation (March 31, 2021), Ivermectin is an anti-parasitic agent included in WHO's essential medicines list for several parasitic diseases. It is used to treat strongyloidiasis, onchocerciasis (river blindness) and other illnesses caused by soil-transmitted helminthiasis. It is also used to treat scabies.
WHO says Ivermectin may have little or no effect on clinical improvement (low certainty evidence). The WHO's guideline development group determined that there is 'very low certainty' of Ivermectin reducing mortality, need for mechanical ventilation or hospital admission and time to clinical improvement in Covid-19 patients.
Even the European Medicines Agency does not support the use of Ivermectin for Covid-19 outside well-designed clinical trials. In the European Union, Ivermectin tablets are approved for treating some parasitic worm infestations, while Ivermectin skin preparations are approved for treating skin conditions such as rosacea. 
Ivermectin is also authorised for veterinary use for many animal species for internal and external parasites.
Approved for use in India?
The Indian Council of Medical Research's National Task Force for Covid-19 and the Joint Monitoring Group had in October 2020 decided against including Ivermectin in the national clinical management protocol for Covid-19 due to lack of sufficient evidence on its efficacy based on randomised trials held in India and abroad.
The Subject Expert Committee meeting to examine Covid-19 related proposals under accelerated approval process in its 131st meeting held on December 17-18, 2020, at the Central Drugs Standard Control Organisation HQ in New Delhi noted:
"M/s Zuventus presented their proposal for manufacturing and marketing of Ivermectin 12 mg Tablets for treatment in Covid-19 before the committee. Committee noted that the data submitted by the firm was not adequate for consideration for approval of Ivermectin 12 mg Tablets for use in the treatment of COVID-19."
"After detailed deliberation, the committee recommended that formulation of Ivermectin 12 mg tablets may be considered for the already approved indication for approval by CDSCO as per the regulatory provisions." 
According to the CDSO drug approval database, Ivermectin concentrate solution or injection is indicated for the control of various helminthic infestations such as roundworm, lungworm of sheep, cattle, horse, swine, sucking lice, mange of pigs, dogs, ticks of sheep and cattle. (Approved in October 1985).
There was no clarity when the ICMR changed its stand on Ivermectin. But according to the Union Health Ministry, which still prescribes the medicine, the recommended dosage for Ivermectin is 200 mcg/kg once a day for 3 to 5 days. Worryingly, doctors are prescribing up to 12 mg tablets for patients.
So why then -- despite after agency after agency warning against the use of Ivermectin -- are doctors and state governments prescribing it for Covid-19 treatment?
Asianet Newsable reached out to ICMR for a response. However, we are yet to receive a response.
Image Courtesy: science.org/Wikipedia
NOTE: Asianet News humbly requests everyone to wear masks, sanitize, maintain social distancing and get vaccinated as soon as eligible. Together we can and will break the chain #ANCares #IndiaFightsCorona
Last Updated May 13, 2021, 1:22 PM IST